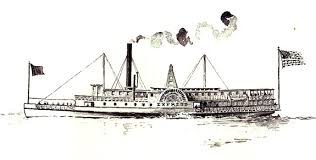 I kept reading about this amazing cruise that Un-Cruise Adventures offered on the Columbia and Snake Rivers in Oregon. Seemed like every place I turned on social media, someone was writing about or posting photos of this fascinating cruise which cruises for nearly 1,000 miles embarking from and returning to Portland, Oregon on an 88-guest replica coastal steamer. Historians, crew decked out in period costumes, guest experts and living history presentations are all included in addition to the excursions ashore to museums, historic forts, and wineries. All shore excursions with Un-Cruise Adventures are included in the price which is a huge convenience.
It sounded pretty darn wonderful.
So, in October, we head to Portland to board the S.S. Legacy for what we anticipate being a quite, quite fabulous cruise. We are really excited about all the excursions but, since waterfalls are one of Tom's favorite things, he is particularly excited about visiting and photographing Multnomah Falls. He also finds navigating locks amazing and interesting so he can't wait for the locks we will transit. Actually, looking over the list gets us more excited about the cruise every time we read it!
Visit the stunning Columbia River Gorge National Scenic Area and towering Multnomah Falls
Transit eight locks and tour the Bonneville Dam Visitor Center
Ride a speed boat into Hells Canyon and hear the storied past of the Nez Perce
Step into early American pioneer history with included tours at Fort Clatsop and Fort Walla Walla
Discover Victorian Astoria and the fascinating Columbia River Maritime Museum
Tour enchanting Maryhill Museum and the Columbia Gorge Discovery Center
Enjoy a private tour and tasting at a Washington winery
Retrace history following the epic journey of the Lewis & Clark Expedition
Daily narrative led by guest experts, historians, and onboard Heritage guides
We have cruised with Un-Cruise Adventures before – our first introduction to the amazing islands of British Columbia was enjoyed on the Safari Quest yacht and I wrote about those adventures in a number of places. We enjoyed every second of that cruise but this one is completely different and we anticipate a completely different experience. The Safari Quest was luxurious and we were pampered daily but the Legacy will be much roomier with a Grand Salon complete with a full bar and dance floor, the Klondike Dining Room with wine bar, Pesky Barnacle Saloon, hot tub, sauna, fitness equipment, yoga classes, and massage suites. In fact, a massage for every passenger is included – that is my idea of the perfect cruise!
The Legacy also has a much more extensive choice of staterooms, some of which are pretty darn nice – the Owner's Suite even has a Jacuzzi tub, wet bar, refrigerator, and media center. And all of the cabins have a flat screen TV/DVD and iPod docking stations.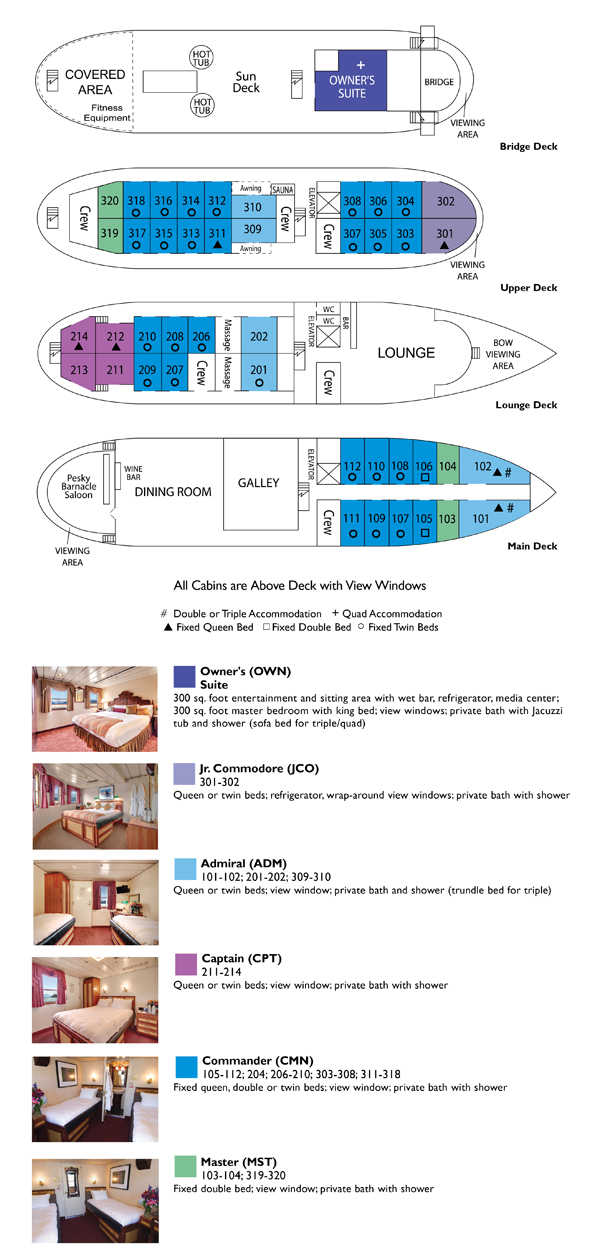 You can read about the cruise in more detail here and get some ideas about planning your own cruise in 2015; there are even some special savings for booking advance. You can follow along for updates and photos as we cruise in October on Twitter and I'll be writing about all our adventures when we return.
If are still unsure about whether this will be a truly amazing adventure, check out this video. Now book the cruise yourself!
Pin It