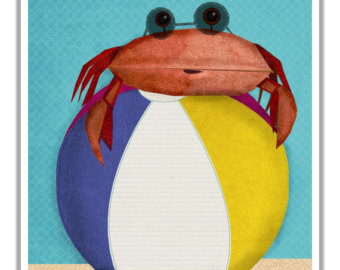 I'm writing this article in a luxurious, seven bedroom beach house in Gulf Shores, Alabama courtesy of Relax on the Beach called Grand Paradise. It is so close to the Gulf of Mexico that we can step out our back door and, with approximately ten steps, have our feet in the white sand. It is so huge and elegant with its myriad bedrooms and bathrooms and flat screen televisions and fully equipped kitchen that we could live here forever. The two of us are rattling around in this huge house, never even using the expansive upstairs, thinking about how most of our extended family could fit in this house and how all the kid cousins would love the bunk bed room with their own television in the loft.
But we don't have to stay in a gorgeous, seven bedroom luxury beach house to enjoy the beach. Our son and daughter-in-law are actually across the street the beach and from us in the same neighborhood for the week in a charming, sunny yellow beach house aptly named Sunshine. It's not right on the water and it's much smaller but it's cozy and homey and quite, quite lovely.
We have stayed in fabulous, sprawling, luxury hotels in Hawaii and Mexico — hotels that were mere steps from an incredible beach and offered amenities that would boggle your mind. We have stayed in condos near the beach in Hilton Head and Isle of Palms and Destin. Then we've stayed in places like these wonderful beach houses. We enjoyed all those vacations equally. There is a beach vacation out there for everyone. And everyone needs a beach vacation. The sun, the sand, the smell of the air, the taste of fresh seafood just pulled out of the water, kids building sandcastles – yes, everyone needs a beach vacation.
Read the rest of this article on Travel Generation HERE.
Pin It