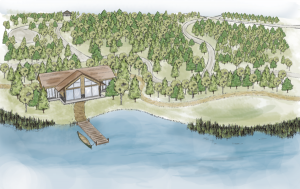 Hosted Accommodations
You would never know the Little Sister Resort is there if not for the sign and your trusty GPS. Tucked away in the woods bordering Little Sister Bay and hidden from the road, this charming little family friendly location was the perfect place for us during a summer visit to Door County, Wisconsin.
After checking in at the office area which doubles as the dining room for the full, hot breakfast that is included with your rate for every member of your family (what a great amenity!), we drove a few yards back to our chalet which was perched on a hill overlooking the water.
Little Sister has dozens of different chalets, cabins, and homes with varying configurations and number of bedrooms, many of which overlook the water.
 Our two bedroom chalet was the perfect size for the three of us as our daughter and eight year old grandson were accompanying me on this trip trying out a different sort of beach trip for our summer getaway.
There were actually four chalets in one building but we never heard any noise from the others staying above us. There was plenty of parking with a small lot right beside our chalet and another one beside the quiet road.
One of the best things about our chalet was the furnishings. After years of staying in rental properties, I know how they are furnished can vary considerably and can really affect how much you enjoy your stay. Our chalet had a very nice couch and a fabulously comfy leather recliner which I perched in the first day and claimed as my own. Luckily, the rest of the family was fine on the couch. With a very nice flat screen television and a fireplace, this would be a lovely place for a fall visit as well.
After settling in and unpacking, we wandered around the resort grounds for a while, surprised at how beautiful the area was, how many different types of accommodations were offered, and how many people were all around, just enjoying themselves. Families gathered around in a circle in lawn chairs on the grassy areas, riding bikes, relaxing on the dock in the surprisingly comfortable provided lounges, or having a bite to eat at the restaurant on the grounds, Fred and Fuzzy's Waterfront Bar and Grill. After seeing just how many people were enjoying Fred and Fuzzy's, we decided to head down there for dinner.
Overlooking the bay, the restaurant is a great place to relax and watch the sunset, which is just what many guests and residents in the area do every pretty summer evening.
As you can see from the jeans and jackets, we had arrived during an unusually cold week in July for Door County but we did have some sunny days and managed to enjoy ourselves with no problem. One of the many culinary delights that Door County offers is fried cheese curds. Chunks of cheese batter dipped and fried? Sign us up! We had cheese curds every single day of our visit as we knew we wouldn't find them anywhere else and I have to say the ones at Fred and Fuzzy's were really the best. Hot, golden brown, fresh and delicious – with a water view? Oh, yes.
You will also notice the root beer in the photo – that's a local root beer called Baumeister that our grandson loved and ordered at just about every meal except breakfast.
Speaking of breakfast, one of the best amenities at Little Sister Resort is the fact that it includes a full, hot breakfast every morning. We strolled over every morning to the quaint and lovely, cedar-lined dining room and ordered everything from home-baked pastries, eggs and egg dishes, a variety of pancakes, French toast, breakfast meats, fresh fruit, yogurt and oatmeal. The friendly waitress offered a choice every morning and we often ordered both choices – just a sample of course! After we sat down, she would come to our table with a plate of some delicious, freshly baked pastry – a different choice every single day. I'm ashamed to say that I got not one single photo of any of our breakfasts – probably because I ate them so fast!
Many of the accommodations have fully furnished kitchens as ours did but there is also an ice machine under the deck of the dining area to fill your coolers and, in addition, there are bikes under there for anyone to use who is interested. Door County is great for bike riding and you will see bikers everywhere.
After a great night of sleep in our comfortable and cozy chalet, we awoke to a bright, warm, sunshiny morning and proceeded to spend the day at the Little Sister Resort dock area, which is one of the nicest I have seen. There is plenty of room on the dock to sunbathe and enjoy the view and I couldn't get over how nice the wooden lounge chairs were. Furnished with new, thick cushions, they were the perfect place to hang out.
 Whether you want to swim, sunbathe, or enjoy watersports, the dock has a great view of the surrounding bay.
Little Sister Resort offers a lot of amenities but one of the nicest is the fact that they have non-motorized watersports available all the time at no charge. Paddleboats, canoes, kayaks, and stand up paddle boards are spread along the beach for anyone to use. And our daughter and grandson proceeded to use every single one.
 This resort is truly one of the most family friendly places I have ever stayed. With activities for every generation and accommodations that will fit every budget and lifestyle, it's a great place to stay in Door County. In all honesty, I was astonished at how reasonable the rates are. Very economical for a family vacation. Door County has tons of things to see and do – in fact, I'll be writing another post all about our time in the area. But, in reality, you could check into the Little Sister Resort and never leave for your entire vacation.
And be perfectly content.
In case you are unsure about whether to pick up the phone and book your next vacation at the Little Sister Resort immediately, check out this video. Now, pick up the phone!
Full disclosure: Our stay was provided by Little Sister Resort but as always, we will share our honest opinions about any travel experiences we have.
Pin It