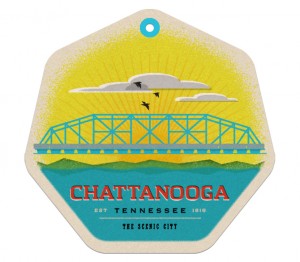 Hosted Accommodations
There were a great number of things we liked about the Chattanoogan Hotel in Chattanooga, TN. The beautiful lobby, the sunning terrace, our comfy room. But by far our favorite thing was the amazing meal we had at The Broad Street Grille, one of the restaurants in the hotel. Just thinking about it makes my mouth water.
But let me back up.
We had just spent a week at the Gulf coast and were heading back home but we like to break up our road trips and take leisurely drives, especially if it means we can visit an interesting location to write about. I looked at a map of our route, noticed Chattanooga was situated just right, and we ended up at the Chattanoogan Hotel. Just long enough for us to realize that we need to make a return trip to Chattanooga because it looks absolutely charming and all we had time for was a drive through on our way home.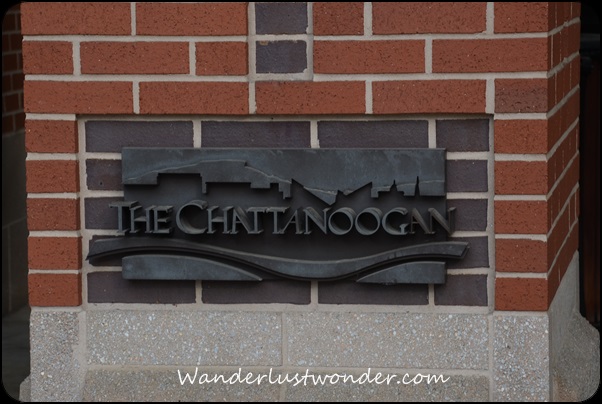 The hotel is beautiful as we noticed when we drove past the street entrance to I guess what is technically the main entrance in a shaded area in the back.
We brought in our luggage and were immediately impressed with the beautiful lobby.  Chattanooga's only AAA Four Diamond-rated full-service hotel, it is located in the heart of downtown Chattanooga with spectacular views of beautiful Lookout Mountain.
The furnishings are exquisite and they even have some authentic Civil War cannon balls decorating the fireplace!
Right across the street, we noticed bikes in a rack which were for the Chattanooga Bicycle Transit System. Apparently, you borrow the bikes which you pay to ride and can return at any number of bike stations. What a great idea!
We also saw something really cool in the lobby that we have never noticed at another hotel – a completely interactive map of the area. Perfect for families looking for something to do!
They have a lovely spa, a very nice exercise room, and a beautiful indoor swimming pool.
There is also a really nice sunning and relaxing terrace right outside the pool with a view of the area and the mountains.
Our room was very nice and comfortable but we also got to see one of the lovely suites and that's where we want to stay on our next visit!
 The suites have a completely separate living room which is great if you are different sleeping schedules and a nice kitchenette, perfect for families or anyone who likes snacks and drinks in their rooms – yes, that would be us!
 With recently renovated guest rooms and suites, the full service spa, three restaurants, and 25,000 square feet of meeting space, this hotel can fit the needs of any guests.
And speaking of the restaurants.
After our tour and settling in our room for a bit, we headed down to The Broad Street Grille, where our PR contact had kindly arranged dinner for us. We didn't know what to expect but were suitably impressed when they seated us at the Chef's Table. The Chef's Table is located at the open exhibition kitchen at a bar like space where you can watch the chefs work and prepare the delightful meals, which is really a fun experience.
The Broad Street Grille is one of the region's premier restaurants and features upscale, casual Southern Regional Cuisine enhanced by global flavors.  The restaurant is known for mouthwatering dishes, seasonal ingredients and warm hospitality – and we experienced all of these.  Prime meats and sustainable seafood are enhanced with house made pastas, farm fresh produce from local growers, local artisan breads, signature side dishes, and rich sauces to offer a delectable contrast of flavors and textures. The dinner menu changes twice a year so the culinary team can highlight the best seasonal offerings available.
Because we were very kindly invited to sample some alcoholic beverages, I requested some sort of sweet drink that was not too strong. Our waiter left and returned with a fabulous concoction with raspberries in it. I'm not exactly sure what it was but you should ask and order the same thing!
We always like to try local items as much as possible so when I spied a local cheeses appetizer, that became our first option.
Our waiter strongly suggested that we try the Skillet Seared Crab Cakes and I was hesitant as I am very picky about my crab cakes but I made the right decision and ordered one.
We had not eaten very many salads on our beach trip so I decided to get a simple Caesar salad and it was truly one of the best I have ever had. I had thinly sliced but large pieces of cheese on it really added to the taste.
We watched the chefs preparing meals for a while and were amazed at the care they took to make everything look beautiful and appetizing.
There were so many fabulous and delectable choices on the menu, it was really difficult to choose but, again on the advice of our waiter, I ordered the Filet Mignon on whipped potatoes and I don't think I have ever eaten a better steak. It was perfectly cooked and the flavor was incomparable. I actually took a picture and texted it to our daughter-in-law who loves steak!
There was no possible way that we needed dessert but there also no possible way we were not going to order it. Especially after the chefs told us there was a new pastry chef and she was amazing and was whipping up fabulous new items every day. I don't actually see it on the menu, but I had some sort of chocolate cookie (which she baked) with peanut butter ice cream in the middle and caramel like cookie crumbs around it.
Oh. My. God.
 There is also a really nice area for outdoor dining in a secluded courtyard, surrounded by mature trees, landscaping and a glass stone covered fire pit. The area is ideal for relaxing with friends, family and colleagues and the restaurant's full menu and complete bar service are offered – what a great place for a summer evening!
So, in short, we enjoyed every single minute of our too short stay at the Chattanooga Hotel. We are definitely going to have to pay them another visit – and you should as well if you are in the area!
 Full disclosure: Our stay and dinner were provided by The Chattanoogan Hotel but as always, we will share our honest opinions about any travel experiences we have.
The Chattanoogan Hotel
1201 Broad Street
Chattanooga, TN 37402
(800) 619-0018
http://www.chattanooganhotel.com/
Pin It