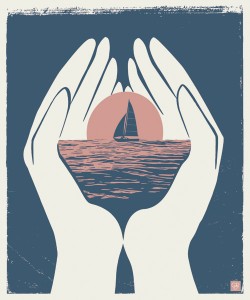 Hosted Activity


The boat slipped away from the dock into the muddy water of the creek silently, with only the sound of warbling birds and chirping insects to accompany the start of a coastal ecology tour with Taking Off Hot Air Balloon Company and Boat Tours.
Although this company offers hot air balloon tours of the Gulf coast, we were here for one of their boat tours; specifically the 2-hour tour of the Magnolia River, Fish River, Weeks Bay and part of Mobile Bay.
From the website: You will see some magnificent homes from the water that you would never get to see otherwise. You will also see the mail boxes on everyone's piers. We are one of the last places in America to receive year-round mail by boat. Magnolia River is one of the most beautiful in the state and is only the 5th in the state to be designated an "Outstanding Alabama Water", the states highest environmental designation. The town is so proud to have one of our most important natural resources protected. The river is very important to the whole community.  We can pick you up at several locations including Big Daddy's or Jesse's.  Plan your trip so that you can have lunch before or after your cruise! 
We opted to meet our tour guide at their private dock and were a little taken aback when we arrived at the address to find a church, day care center, and absolutely no sign of any water, dock, or any sort of boat. Luckily, someone finally appeared and opened a gate to what looked like a farmer's field but ended up leading us back a country lane to what indeed turned out to be a dock and body of water. We boarded, plunked ourselves down onto some pretty comfy bean bags, and set out on our adventure.
 Trees and thick green undergrowth covered the banks of the creek as we pulled away from the dock.
Almost immediately we began to see evidence of the flood that had raced through the area recently. The Gulf coast region received a huge amount of rain in a very short time and flooding occurred all along the waterways we traversed.
We pulled out into Fish Creek where the water was perfectly still in the sunlight. All the waterways were somewhat muddy from heavy rains and flooding, but they were still beautiful.
From Fish Creek, we headed into the Magnolia River.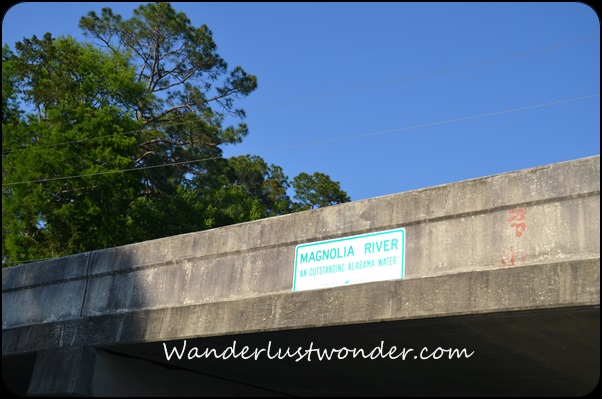 We were really amazed at the absolutely gorgeous homes that lined the river.
Some had boathouses that were just as fancy as the houses.
We passed what looked like a replica of a phone booth from England. No idea why or how.
One of the most interesting things about the river is that it is one of the last places to have mail delivered by water. We saw plenty of kitschy mailboxes along the way.
There was evidence of flood damage along here as well. One house with a lovely, green grass front yard had been covered with several feet of white sand washed in by the floodwaters.
One house had pretty extensive flood damage that was obvious from the water.
We didn't see a lot of wildlife on this trip although that is always a possibility but we did see some nesting Osprey. After problems with the birds nesting on telephone poles, special nesting poles were built for the birds.
We also saw some in the trees.
 From the river, we headed out to Weeks Bay, which is a small estuary with about 3 square miles of brackish water ringed with marsh, forests, and bog habitats. The Weeks Bay Reserve includes over 6,000 acres of wetlands and waterbottoms which provide a diverse habitat for a variety of wildlife.
We were really surprised at the size of Weeks Bay and the number of boats in the area. Several eagles were circling around and we got close enough to get a few photos. We were amazed at how huge they were.
From Weeks Bay, we took a little jaunt out into Mobile Bay where we could see the peninsula with Fort Morgan on the tip and catch a glimpse of the area where we were staying. Then we headed back to the dock with the late afternoon sun making a path of light across the bay.
It was a great way to spend an afternoon and see some of the sights from the water. You can check out their website for the other tours they offer. I found a video about the mail delivery by water that you might enjoy as well. Check it out, then call to arrange your own tour!
Full disclosure: Our tour was provided by Taking Off Hot Air Balloon Company but as always, we will share our honest opinions about any travel experiences we have.
Pin It