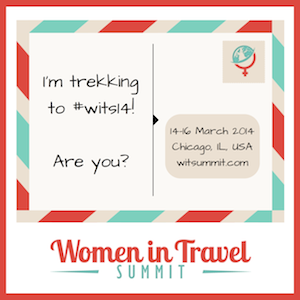 I just researched information about how to finish and publish the ebook I have been messing around with for a year, signed up for affiliate marketing, and contacted a vendor to work out a great reciprocal partnership for future travels.
All of this was done expressly because I attended the inaugural Women in Travel Summit in Chicago last weekend.
What an amazing weekend! I have attended and spoken at a lot of conferences over my career as a Library Media Specialist, even international conferences, but this was my first time presenting as a travel writer and I have never been as impressed as I was at this conference. This group of women travelers was so enthusiastic, so innovative, so fascinating, that I spent most of the time amazed at what they had to offer.
I attended sessions with phenomenal speakers, but was equally impressed by the women in the audience who generously offered information to their fellow travelers, bloggers, writers – with no thought about how they might personally benefit. Brooke Roberts of Yoga Travel Tree, a start-up which will match Yoga lovers with the best destinations for them, said it best when she suggested we all be "master connectors" who connect others to their mutual benefit.
When I presented my session about press trips, I took her advice, combined it with 20 years of teaching experience, and encouraged my audience to interact, ask questions, and make connections. And did they ever! I think we could have talked for a couple more hours if the next presenter was not waiting to take over the meeting room. I also told them to please take a business card and feel free to email me with questions or help with contacts – and they have! I have heard from dozens of the women I presented to who have a variety of questions, some of which I have been able to answer and make connections for them.
One of the best parts of the conference was the closing address by Evelyn Hannon, the founder and editor of Journeywoman, an online travel magazine for women. She was truly an inspiration for all of us as she described starting up a black and white print magazine for women travelers decades ago when women travelers were virtually unheard of in the world of travel.
I'm still going over my notes from the conference but I will definitely be at the next one in Boston next spring.
I can't wait.
Pin It