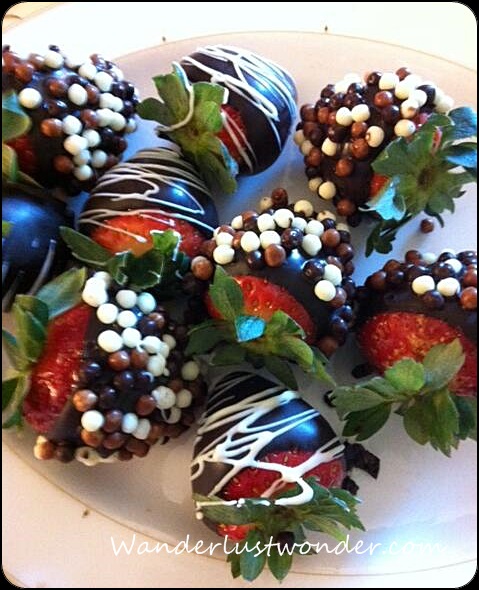 The strawberries were a nice touch.
We were already mostly in love with this beautiful, luxurious hotel but when they kindly delivered chocolate covered strawberries to the room, we fell head over heels.
What's really ironic about our visit to the River City Casino and Hotel in St. Louis is that we don't gamble. Hardly ever. We have no moral opposition, it's just a little boring and I always think about how many cute pairs of shoes I could be buying with that money. But here's what's truly great about this location.
You don't even have to like gambling to stay here.
Of course, there is gambling. Plenty of it. And it's in a perfectly gorgeous setting, with lovely people who help you with everything from parking your car to giving you directions.
Well, just look. These employees are having way too much fun making this video but you can see how fabulous this place really is.
We arrived here for a two night stay on our way home from a press trip to Branson. St. Louis is conveniently located only about five hours from us and we could have easily continued on, but when we were offered a stay, we realized we could actually visit inside the Arch before we headed home. On our first stop, on the way to Branson, we ran into a problem when all the national parks were closed because the government had come to a grinding halt. So the main reason we agreed to stay here was because of the Arch.
But we were so very glad we agreed.
As pretty jaded travelers, we are not often awed by a hotel entrance but we were definitely impressed with this one.
Located well away from the city but an easy drive to all the tourist attractions, the hotel and casino sprawl across several acres in beautifully complex designed to make it very easy for visitors. Valet service unloaded our luggage and whisked our car away to the parking garage which turned out to be just a quick elevator ride away. We didn't even have to go outside!
A bellman accompanied us to our room and showed us the television embedded in the bathroom mirror (!) and kindly brought us some ice. Our room was large and comfortable had free and excellent wi-fi which we always appreciate and a pretty fantastic rain shower in the bathroom. One of the absolute coolest things in the room was that they had these switches by the door which you could flip to let housekeeping know you were ready for them to do your room. Instead of those silly plastic cards which get bent and lost, a little light went on outside the door. Brilliant! Why don't all hotels have this??
We took a stroll around the hotel and casino and were really impressed with the immaculate cleanliness, the luxurious furnishings, and the friendliness of everyone who worked there. One morning, I was trying to get a quick orange juice to go from one of the restaurants which did not have to go cups so they ran over to another restaurant that had to go cups, filled it with orange juice and presented it to me. I was speechless at this demonstration of their concern for customer service.
After a day of touring, we returned for an absolutely superlative dinner at The 1904 Steakhouse. Not only is this restaurant as luxurious as the resort of the casino and hotel, the service was just wonderful, and the food was amazing. We had a great steak that was cooked perfectly and crispy fries.
We were a little sad when it was time to leave as we would have liked to try the other restaurants and just relish staying at such a lovely location. We will just have to stay longer next time. And maybe one less pair of shoes and we could try the slots!
Full disclosure: Our stay was provided by The River City Casino and Hotel but as always, we will share my honest opinions about any travel experiences we have.
Pin It