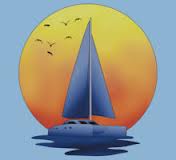 Hosted Activity
We are all about the beach when we take a beach vacation and our visit to Panama City Beach was no exception. The soft, sugar-white sand and gorgeous aquamarine water of this coast along the Gulf of Mexico are truly some of the most beautiful of any beach I have lounged upon.
But sometimes – especially when you have your seven-year old grandson with you – you just have to find some adventures aside from lolling in a beach chair. Luckily, Paradise Adventures came to our rescue with an incredible afternoon of fun activities.
Paradise Adventures features a Catamaran called the "Privateer" which is a 55 foot, Coast Guard certified Catamaran that can carry up to 49 passengers for a variety of adventures. The Catamaran has a large and roomy deck with lots of seating, sunning nets, a shaded cockpit where you can cool off which also has a full bar, two restrooms. and an attached slide off the back of the boat. It departs from the Pirates Cove marina off Thomas Drive which is really easy to find and has plenty of free parking. Your ticket entitles you to one free drink either alcoholic or non-alcoholic and they also have snacks for sale.
They offer a variety of sails that include: private charters, specialty cruises, birthday parties, singles cruises, weddings, bachelor/bachelorette sails, corporate sails and more, and also have special events which you can check out on their web site. They also have sunset sails, early morning cruises, dolphin viewing trips and the one who chose – an afternoon filled with adventure at "Paradise Island" which is also known as Shell Island, just off the coast.
We picked up our tickets in the office, then headed down the dock to board the large Catamaran, along with several other families. It was a beautiful, sunny day – absolutely perfect for an afternoon on the water.
We headed out from the dock and settled in on the deck to watch the shore slip away and enjoy the warm sun. Almost immediately, we had a minor emergency as my daughter's bikini top proceeded to snap apart in the back as the catch broke. One of the crew members just happened to have an extra bikini top in the right size and she loaned it to my daughter for the afternoon. Talk about service!
We were really impressed with her kindness. In fact, the entire crew was very concerned with making sure that everyone was safe and having a great time. We cruised right up to the beach at Paradise Island and the captain anchored us in maybe three feet of water; plenty shallow enough for everyone to go down the steps to swim, walk on the beach, or play on one of the many inflatables that were anchored in the cove.
I swam a little while and enjoyed the warm water as our daughter and grandson enjoyed the slide off the back of the Catamaran, the 12 foot inflatable slide, the  two water inflatable trampolines,  the see-saw "Rocket" and climbing on the inflatable "blob". The crew also had plenty of  kayaks, paddle boards and snorkel equipment and everyone on board enjoyed using these. All of these activities are included in the price with no additional charge and there were plenty of activities for everyone of all ages. The three of us enjoyed every minute.
We were a little sad to head back to land but the captain spent some time looking for dolphins in an area known for them on our trip back and he found plenty, much to the delight of our grandson and everyone else on board.
It was an absolutely great way to spend an afternoon at the beach and was very reasonably priced. We loved our day at Paradise Island. If you are still not sure, check out this video. Then make your plans!
Full disclosure: The Panama City Beach CVB and Paradise Adventures kindly provided us with our adventure,  but as always, I will share my honest opinion about any travel experiences I have.
Pin It