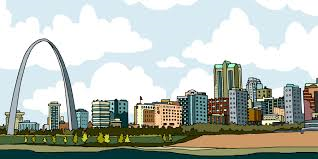 Hosted Accommodations
If we could have chosen the perfect hotel for our stay in St. Louis, that hotel would have been an Embassy Suites.
We have stayed in them previously and there is just nothing like their expansive, two room suites and that incredible, complimentary hot breakfast. So it was certainly fortunate that the Embassy Suites Downtown works with the local CVC to provide accommodations for visiting travel writers because we loved every single thing about our stay at this lovely hotel.
We pulled up in front of the historic Laurel Building where the Embassy Suites is located and took a minute to appreciate the beauty of this location. This is not your usual chain hotel but instead a distinctive, unusual, and luxurious hotel in the middle of the Mercantile Exchange District, a vital and every-changing landscape of restaurants, shops, and a huge movie theater right across the street. The all-suite LEED certified hotel is right across from America's Center Convention Complex where the St. Louis Visitors Center is located so it's easy to drop in to get information about local attractions.
It's also just a short walk to the Edward Jones Dome, the home of the NFL's St. Louis rams, the famous Arch by the Mississippi River, and the Lumiere Casino which is accessed through an underground, well-lit tunnel so you don't have to deal with crossing busy streets.
We handed over the car keys to the friendly valets who spent the next few days greeting us and helping us with directions to wherever we wanted to go. Parking fees were not cheap for our stay but we are used to that in any big city. We paused yet again in the lovely lobby where they kept the original marble floor and added a two-story atrium and managed to attain a contemporary feel. Originally one of the city's first department stores, the essence of the Laurel Building has been maintained by Embassy Suites and clues to the history of the building are found in things like the lobby marble floor and the high ceilings in the suites.
After checking in, we headed up to our suite where we had to yet again pause to appreciate the fabulous place we were staying for the next few days. The spacious two room suites have a large living room with comfortable furniture, a flat screen television, and a full wet bar with a fridge and microwave, and nice dining area. The bedroom is large with views of the city and yet another flat screen television which I dismissed as overkill for us until the very next night when Tom wanted to watch a game and I absolutely did not want to watch a game.
How blissful to have two completely separate areas!
We loved everything about our room but especially appreciated the fridge, microwave, and dining area as it really helped us save money on eating out. Although we realized almost immediately, to our horror, that we had left our fully stocked snack bag at home and we had to find a local grocery to stock up. Surprisingly, this was not a problem as our helpful valet directed us to a large grocery store only a couple of blocks away – amazing to find in the middle of a big city.
We relaxed in our fabulous suite, had a great night's sleep, then headed down in the morning to the beautiful atrium on the 4th floor where they offer a complimentary, cooked-to-order breakfast every morning. We are not generally big fans of the complimentary hot breakfast in most hotels and will often bypass the tasteless, packaged sweet rolls and runny scrambled eggs to head to a local McDonald's but this is so not the case at an Embassy Suites.
Their breakfasts are always wonderful – hot, fresh and delicious with a fresh omelet bar. Their breakfast is one of the main reasons you should choose to stay at an Embassy Suites. They also have a nightly evening reception with drinks and some small snacks.
Although we were out and about the whole time we were in St. Louis and didn't get to fully appreciate all the amenities, the hotel also has a complete fitness center and a heated indoor pool and whirlpool which would be great if you had the time. The two of us enjoyed our stay immensely but the hotel is also perfect for weddings, business meetings or conventions. They have 5,000 sq. ft. of flexible event space, six Executive Boardroom Suites, dedicated event staff support and complimentary WiFi access in public areas throughout the hotel. In addition, there is a complimentary 24-hour BusinessLink™ Business Center with WiFi and mobile printing capabilities.
We didn't really care about any of that. We just appreciated the fact that on our last rather cold and rainy day, we could scarf down a wonderful omelet, then spend the entire day in our pajamas in our completely marvelous suite, lounging on the fabulous bed, working on our computers using the complimentary wi-fi, watching our two respective televisions, and then heat up some leftovers for dinner in our microwave.
For us?
That is the ultimate in luxury.
Full disclosure: The Embassy Suites – Downtown provided us with our stay,  but as always, I will share my honest opinion about any travel experiences I have.
Pin It