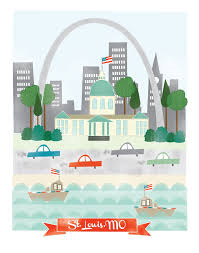 There were a lot of things we absolutely loved about our trip to St. Louis, Missouri. The Embassy Suites Downtown was the perfect hotel in the perfect location, the Arch was amazing, and the city is comprised of so many lovely neighborhoods, gorgeous parks, and a scenic downtown area that you could spend weeks there and never see the same place twice.
However.
It was the food of St. Louis that totally wowed us.
We are huge fans of eating fabulous food and it's a big part of any trip we take. We book foodie tours to sample the best of a city, we search out great restaurants, and we enjoy the local ice cream, candy, and whatever specialties we happen upon. Lucky for us, on this trip, we were escorted around the city in grand style by a new friend who enjoys food just as much as we do. The St. Louis CVC kindly hooked us up with Nancy Milton who loves her city and spent two days sharing with us exactly why it's one of the greatest cities in the U.S.
Our first morning in the Gateway to the West, we headed down to the atrium on the fourth floor of the Embassy Suites St. Louis – Downtown for the free hot breakfast which is offered at all of their hotels. Now, just let me say that we are not normally fans of the free hot breakfast offered by most hotels. We have been known to completely bypass most of them to grab a doughnut or drive through McDonald's – they are that bad.
This is so not the case with Embassy Suites.
Not only do they offer an extensive buffet, they also have a fresh, hot omelet bar. A fresh, hot omelet bar is one of our favorite things in the entire world and we took full advantage of this one during our visit. They also serve a light lunch and dinner in the atrium which we never took advantage of since we had a completely fabulous kitchenette in our suite, complete with a fridge, sink, and microwave and whenever we were not snacking in our suite, we were eating somewhere in town.
Although I do have to add that I was heartbroken when we arrived in our suite, spread out all our belongings and I realized we had left our rather large bag of packed snacks at home. We had to immediately find a grocery store and this was surprisingly not a problem. We were both amazed that there was a large, full-service grocery store only a couple of blocks away from the hotel where we purchased duplicates of almost everything we had left at home.
After our breakfast, which was wonderful in every way, we waited outside the hotel for Nancy to pick us up. She had offered to show us around town for two whole days and we appreciated this so much. We have become pretty expert at finding our way around a city but it's awfully nice to have someone transport you around and show you the best parts of the city. We were once again in the situation where we were meeting a complete stranger and planning to spend a lot of time with her which could be very awkward.
It took approximately two minutes for us to realize this was not going to be a problem. Nancy was sweet, funny, gracious, friendly, and we truly enjoyed spending time with her. She immediately suggested we go to brunch but was understanding when we mentioned that we had just consumed our weight in omelets and said we would have lunch later.
I'm going to tell you all about St. Louis and everything we saw and did but this article is about food. Because it was wonderful and you must hear about it so you can plan what to eat when you arrive. An important component of any trip. After touring around a bit, Nancy informed us that she couldn't possibly make it to lunch without a snack.
This is a person who gets us.
She drove to Ted Drewes Frozen Custard. When she told us where we were going, we both exchanged a glance but were too polite to say anything. We had tasted frozen custard before and neither of us were fans. It was sort of silky, sort of slimy, and sort of gross. So we were not thrilled but figured we would try it to be nice.
You all.
Put aside any preconceptions you might have concerning frozen custard because this stuff is amazing. The store is located on the original Route 66 and was a popular stop for a snack break for years. Their first ice cream store opened in Florida in 1929, then they opened in St. Louis in 1931.They have offers all the time to franchise but Ted says they will never franchise because it could lead to mediocrity.
How great is that attitude? 
Frozen custard is different from ice cream because it must have at least 10% butterfat and 1.4% eggyolk. Frozen custard also has a much smaller amount of overrun or the amount of air which causes it to have a much silkier, smoother texture. At Ted's, the custard is so thick, you can literally turn your cup upside down and it will stay put. They offer every kind of topping and ingredient you can possibly imagine and each and every one is equally delicious.
Once we had sufficiently recovered from the huge cups of frozen custard, Nancy then introduced us to a brand new restaurant called the Precinct Sports Bar and Grill for lunch. It is located in the 15th Precinct of the police department so it has plenty of police memorabilia as part of the décor. They were so new, that I think it was actually the first or second day they had opened. We each had wonderful, hot sandwiches and something unique called a potato bat which was also delicious.
Nancy dropped us off at the hotel to get a little rest and digest all the food we had consumed so far as she was taking us out for Italian food for dinner. Because the restaurant later that night was kind of dark and because I got too excited about the fabulous food, I neglected to take any pictures, but if you are looking for great Italian food, you have to check out The Hills in St. Louis. It is an area with a great Italian history and heritage and there are tons of wonderful restaurants and shops.
The next day for lunch, Nancy introduced us to St. Louis style pizza. Who knew St. Louis had its own pizza? Not us. But Nancy immediately made fans of us. We pulled into the parking lot of Imo's where you can get the best local pizza and, before we got out, she gave us a lecture about what we were going to experience. She told us just to forget about regular pizza, this was not regular pizza. It was going to be delicious. But it was not the pizza to which we were accustomed. She was so right in every way but we loved it. St. Louis style pizza is made with provel cheese, a white processed cheese made by combining cheddar, Swissh, and provolone cheeses. It has a low melting point with a gooey and almost buttery texture so makes a perfect pizza or sandwich cheese. We polished off the entire pizza in all it's hot, gooey delicousness.
We had to bid good-bye to Nancy as she did have some other work to do besides showing us around and letting us stuff delicious food in our mouths at all times of the day and night but this doesn't mean we stopped trying local delicacies. Oh, no.
We were determined to try a local dessert we had seen advertised and Nancy recommended the best local place to find it. Before dessert, we decided a bite of lunch was in order and Tom is always in favor of trying local microbrews so we stopped at Square One Brewery and Distillery and had some great fish tacos and some incredible, huge, soft pretzels which are also a local favorite.
After lunch, it was time for some gooey butter cake. Nancy had recommended Park Avenue Coffee as the best place in town for this sumptuous sounding dessert so we stopped in to try some and left with a big box of several varieties, as well as some box mixes to make at home.
It was, as advertised, gooey, buttery and delicious but we were surprised to find that it was very much like the chess cake that I make at home. So not completely new but, even so, completely delicious. To round out our food experiences in St. Louis, we had a surprise dinner at Cielo which I have already written about.
We had a wonderful time in St. Louis and Nancy + all the wonderful food she introduced us to was one of the primary reasons. So, thanks, Nancy. I'm sure we didn't get to sample everything.
When can we come back?
After all.
We did miss that Sunday brunch…
Full disclosure: The St. Louis CVC kindly provided us with a variety of help on our visit,  but as always, I will share my honest opinion about any travel experiences I have.
Pin It