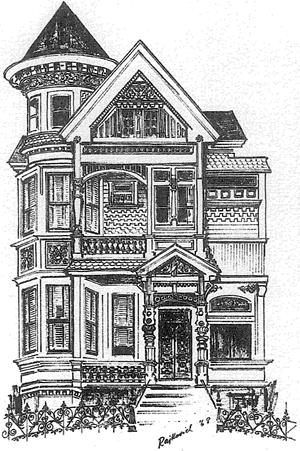 Hosted Accommodations
I like to think I am somewhat classy. I have a dining room, china, and silver.
I even set the table in the dining room with my china and silver fairly often.
My family makes fun of me for using china to serve things like tacos but I feel like it should be used, not saved for "someday".
However.
I have never used, or to be perfectly honest, even heard of a silver spoon rest.
But they have heard of them at the Reynolds Mansion Bed and Breakfast Inn in Asheville, North Carolina.
When we came down to breakfast, we had one at every place setting – in addition to a perfectly lovely table setting complete with all the other silver, china, and beautiful fresh flowers.
This could have been a little intimidating, especially combined with the incredible, opulent furnishings of this beautiful mansion but it wasn't.
Mainly because of the incomparably gracious and friendly innkeeper, Billy Sanders.
Let me back up.
We pulled into the driveway of this lovely mansion, tucked away in the Blue Ridge mountains of Asheville, North Carolina away from the frenzy of the tourists visiting the Biltmore Estate and the busy, kitschy downtown area with street musicians, restaurants with patios filled with visitors and their friendly dogs, and that incomparable artsy craftsy vibe that makes up this town.
And immediately began to relax.
This place has so much history, you can spend hours just roaming around, looking at all the paintings and the furniture which has been carefully chosen to highlight each room. Built in 1847 by Daniel Reynolds and now listed on the National Register of Historic Places, the mansion is considered one of the best and most original interpretations of Colonial Revival architecture in Western North Carolina and has ties to Senator Robert Rice Reynolds, Evelyn Walsh McLean and the Hope Diamond.
Billy Sanders, along with Michael Griffith, have worked hard to return the mansion to some of its original, splendid beginnings. The Grand Dining Room is capable of seating up to twenty-six and there is also a beautifully decorated library and parlor which open onto the expansive front porches which provide a fabulous view of the area.
Tripadvisor ranks this B & B as the #2 location in the United States and, incredibly (but not surprisingly) #12 in the entire world.
It was definitely #1 with us.
Billy showed us around the place and we were just amazed at all the gorgeous furnishings which somehow combined to make the place not only elegant but comfortable as well. He helped us carry in our luggage and we settled in our lovely room on the second floor.
Each of the guest rooms is lovelier than the last, all beautifully furnished and comfortable with private bathrooms, flat screen televisions and some have extras like fireplaces. We were in the Claudette room which was perfect for a girlfriends getaway as it has a queen bed and an additional single bed. We also had a fireplace which would be great in the winter and this room is directly off the upper porch which features a great view of the surrounding mountains.
A little sitting area with a flat screen television made the suite a perfect place to relax. We were a little concerned about air conditioning in the house as it was a very warm summer day but our room had a very nice air conditioner which kept it perfectly cool and gave us a great nights sleep.
After settling in, we decided to explore more of the house and the grounds and we spent our entire tour just amazed at what a wonderful and hospitable place the Reynolds Mansion truly is. Soft drinks, ice, and wine are available in a little room located right off the dining room and we helped ourselves to some ice and drinks later that evening, appreciating this nice gesture. Some guests were relaxing on the back porch in rocking chairs and we said hello as we made our way through the backyard area which has been beautifully designed.
Directly across from the house is the renovated Carriage House which has four large suites and there is also a Cottage overlooking the swimming pool which has two luxury suites with full kitchens. The swimming pool is a surprising extra at a bed and breakfast; we have only seen a pool at one other location. If it not been lightly raining, we would have hopped right in the pool because it looked very inviting.
The mansion is conveniently located right behind Biltmore Park, a planned community of residential, offices and retail space. We actually stayed in a hotel in Biltmore Park last year and the restaurants and movie theatre were very nice. It's an easy walk from the mansion. We spent the evening in our room, just relaxing and enjoying some snacks for dinner we had brought along. In the morning, we headed down to the classy dining room for a delicious breakfast.
Billy Sanders had breakfast with us and spent the entire time regaling us with stories about the history of the mansion. He obviously loves the place and his love makes all his guests appreciate their stay even more. Fresh fruit, a delicious pastry, and a full plate of sausage, eggs, and a breakfast wrap had us so full we thought we would never eat again.
The only slight problem with our stay at the Reynolds Mansion Bed and Breakfast Inn was that we only had one night to enjoy it. We packed up, said our good-byes and headed out on the rest of our trip, sad to be leaving and fairly sure that we were going to miss another fabulous breakfast the next day.
We will just have to plan a return visit – maybe I'll bring Tom along next time!
Full disclosure: Our stay was provided by The Reynolds Mansion Bed and Breakfast Inn, but as always, I will share my honest opinion about any travel experiences I have.
Pin It