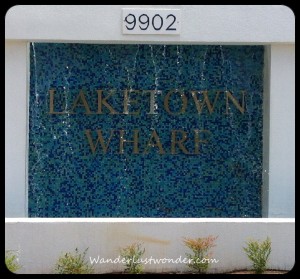 Hosted Accommodations
The first time we trekked up to our apartment at the quite fabulous Laketown Wharf Resort in Panama City Beach, we all three hugged the wall all the way there. My daughter, my seven year old grandson, and me.
All plastered to the wall.
You see, we were on the 21st floor of the resort. And all the apartments at the Laketown Wharf Resort have front doors that open out to an open air walkway.
Which looks down 21 floors to the expansive lake.
It can be slightly disconcerting at first but we soon adjusted to our home in the clouds and sauntered up there without even gripping the wall from then on.
Let me back up because talking about taking the elevators up to our apartment reminds me that I have to tell you about the elevators at this place as they are freakin' amazing and I don't know why everyone at every hotel and resort in the world does not have them. First, you put in your floor number in this wall gizmo, then the computer pops up with the letter of the elevator you need to get on.
The computer evenly distributes the elevator occupants so there is very little wait and no overcrowding. You have to get on the elevator it directs you to because another elevator may not even stop at the floor you selected as that would just waste time. Even when there were a number of people checking in, we never had to wait longer than a few minutes. Amazing.
After that first harrowing ascent, we stepped into our two bedroom apartment along with our luggage cart jammed with everything but the kitchen sink – we believe in traveling in comfort, thankyouverymuch – and were completely overwhelmed with how wonderful it was. Laketown Wharf Resort has one, two, and three bedroom apartments and every single one has a view of the lake out the front door and balconies out the back glass doors which overlook the incredible white sand and gorgeous water of the Gulf of Mexico.
Once we managed to tear ourselves away from the amazing view in both directions, we began to appreciate our wonderful beach home for the next few days. The Master bedroom is large with its own access to the balcony and it has a huge bathroom with an equally huge tub – one of my very favorite items when traveling.
Although we technically had a two bedroom apartment, we had a bunk bed tucked away off the entrance hall right outside the other bathroom which made it really more like three bedrooms. It was the perfect setup for us as my grandson loved his bunk bed. Families with 2-4 kids could easily fit into this place.
The living room was large and comfortable with very nice furniture and a huge, flat screen television along with high speed internet. After years of renting beach condos, apartments, and houses, we have learned there can be an incredible difference in the furniture you might get, so we appreciate nice furnishings.
We especially enjoyed having a fully equipped kitchen. A hotel room is nice but when you are traveling with a family, it can get pretty expensive to pay for all your meals and snacks. We stocked our kitchen with drinks, snacks and the fixings for beach picnics and this allowed us extra money to do some fun things. We also had a washer and dryer – every apartment has one – which is wonderful for family travel.
Here's the floor plan to give you an example of how our apartment was be laid out. There are several different floor plans available and you can lease one of the apartments for an extended time, if you want. And who wouldn't?
One of the most unique things about the resort is the lake area in front. A boardwalk runs along the lake, there is a pool located in the middle of the lake which my grandson found amazing, and they have a marvelous lights and water show in the lake every single night. It is not to be missed, especially for kids.
 We really loved everything about the resort but truly our favorite thing was the pools. With 5 unique pools, including a zero entry pool which is great for small children, a fun kids pool, the island pool, and a 10th floor rooftop pool, there is a pool for everyone in the family. We love the beach and spend a lot of time there but its awfully nice to have the option of relaxing by a pool for at least part of the day.
Even though we loved the pools, we also loved the fact that this resort is right across a quiet street from the beach. You can easily stroll right over there and relax on the sand. It's also an easy walk to plenty of shops and restaurants nearby.
We absolutely loved everything about our stay at the Laketown Wharf Resort and I highly recommend it for any sort of getaway if you are in the Panama City Beach area. Well, here. Check this out. Then make your reservation.
Full disclosure: Our stay was provided by Laketown Wharf Resort, but as always, I will share my honest opinion about any travel experiences I have.