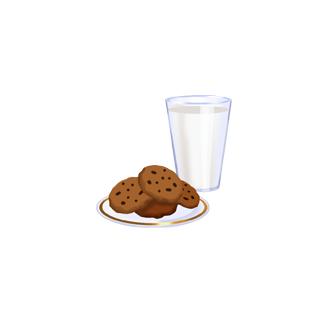 Hosted Meal
It was the cold milk and cookies at bedtime that did it.
That was what made us realize we should have stayed at the West Inn and Suites when we were in Carlsbad.
Let me back up.
We don't normally write reviews for hotels where we have not actually stayed.
But we made an exception this time because our PR contact person, Hilary Townsend with Townsend PR, had invited us to dinner at one of the restaurants by the hotel, Bistro West, and was just so kind and friendly that we enjoyed every minute.
It's always a little awkward when you plan a meal with a stranger you have never met, which happens often in our business. We meet PR people from agencies, hotels, restaurants, etc. on every trip and, even though we may have some reservations about meeting strangers, we have never been disappointed. It seems people in that business are just generally pretty nice and friendly.
Hilary was no exception. We met her at the entrance to Bistro West after wandering up the street in the wrong direction because we were sure that was the right direction and…well. We finally made it. She ushered us into the restaurant where the delicious smells and lovely ambience made us even hungrier than we already were. The hotel actually has two restaurants right next door which make it very convenient when you are staying there. They also offer a sumptuous free breakfast buffet right in the hotel, so you never have to leave for a meal.
We were intrigued with Bistro West before we ever arrived because they focus on a farm to table approach to dining, which we love. They actually have a farm where they plan to produce 100% of the herbs, fruits, and vegetables required for their restaurants. The farm is located just three miles away so the chefs themselves plant, review and harvest the plantings daily so the menus are crafted daily based on what they produce.
We proceeded to have an incredible meal at Bistro West, most of which I do not have photos of because I am the world's worst food photographer in that I get involved in talking and eating, then realize I should have taken a photo of what I just ate. So, I nabbed these photos from their web site to give you an idea. Hilary recommended an appetizer called squash blossoms which was basically these flowers dipped in batter and fried. One might think this would be a trifle odd and might not taste good but one would be wrong.
They were delicious.
Now I'm going to have to be brutally honest and tell you that I often refer back to my Twitter feed to see what I actually ate at a restaurant and, since I forgot to take photos and the couple I remembered to take were a little dark, I'm not sure precisely what we ate. But I'm also going to be very honest and tell you that, whatever it was? Was heavenly. I remember that much. So let me just share a couple of photos of items that look like something we would have ordered and look so delicious they will make you want to visit Bistro West immediately.
I am a huge fan of really fresh vegetables and visit our local Farmer's Market regularly. The taste of fresh garden tomatoes in the summer is just incomparable. So I probably had something like this fettucine.
If scallops are on the menu, that's what Tom is going to order. So this is a likely candidate for his dinner.
After our fabulous dinner, Hilary took us next door to the West Inn and Suites Hotel for a little tour. We were already fans of any hotel that was next door to this fabulous restaurant but we also liked the idea that the hotel was a fairly small, locally owned boutique hotel as that is generally our favorite place to stay rather than a huge chain hotel. Here's a video to give you an idea about how nice this hotel this is in reality.
Because it was late evening by the time we strolled over to the hotel, they had already put out the milk and cookies for bedtime. Yes, that's what I said. They had a large, clear dispenser full of icy milk so cold it was making beads of condensation on the outside of the dispenser. Beside it, there were plates of freshly baked chocolate chip cookies. Cookie hour is every night from 8:00 – 9:00. Seriously. Can we move in right now?
The hotel has 86 large rooms, including 36 suites, all furnished in luxurious detail, complete with free Wi-Fi (love!), refrigerator and microwave, and room service. The suites have a separate family area with a full size sofa bed and another television and DVD player. They also have roll-away beds and cribs. They even offer some pet-friendly rooms.
With a fitness center, business center, heated pool and spa, a guest laundry, an extensive free library of games and books, and a free shuttle to the Carlsbad area, it's a great hotel for business but is also family friendly. Carlsbad is the perfect family destination with LEGOLAND nearby, along with a nice outlet mall, beautiful beaches and plenty of activities like golf, biking or a visit to the nearby Leo Carrillo Ranch to keep the whole family happy. It's also easy to take the Coaster to San Diego for a variety of family activities such as the San Diego Zoo.
So when you head to Carlsbad to enjoy everything this lovely village by the sea has to offer, make a reservation at the West Inn and Suites.
And have some of those squash blossoms. They really are incredible.
Full disclosure: the Bistro West provided us with dinner,  but as always, I will share my honest opinion about any travel experiences I have.
Pin It