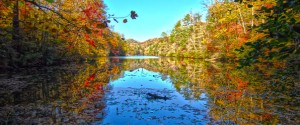 We never made a plan to visit this fascinating little town nestled between the Smoky Mountains and the Blue Ridge Mountains in North Carolina; it just happened to be halfway between Lexington, Kentucky and Savannah, Georgia where we were headed. But when I began to do research about the area and realized belatedly that the Biltmore Estate is located in Asheville, the decision was made. Asheville North Carolina was added into our girlfriend getaway travel itinerary, and it turned out to be absolutely one of our favorite destinations!
We stayed at two equally wonderful hotels and I can unreservedly recommend both. Our first stay was at the Hilton at Biltmore Park . Located in Biltmore Park, a new area near the Biltmore Estate and conveniently full of little shops, restaurants and a movie theater right by the hotel itself, the hotel is brand spanking new and in lovely, pristine condition. We checked in with no problem, settled into our comfy room and then strolled around, checking out the free Internet connection, fitness center, pool and the Sensibilities Spa. One of the most surprising things about this particular Hilton is that pets are allowed and we immediately saw people with their well-behaved dogs on leashes. Asheville is very pet-friendly and we saw dogs all over town, most especially on the terraces of the restaurants downtown. This is the place to go if you like to travel with your pet.
Read the rest of this article on Girlsgetaway.com HERE.
Pin It