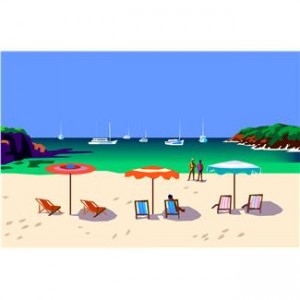 One of the most important things I learned when I was in South Beach, Miami for a day recently is that if you are "in the know" you call it SoBe. If you find yourself in SoBe for a day and you like to shop, eat and lounge on the beach, here's what I did to give you some ideas.
You have some choices when heading to SoBe from another part of Miami, but one of the cheapest and best ways to get there is on a city bus. We were leery when the hotel concierge suggested this, but I found the Miami buses to be clean, air-conditioned and comfortable. They also run on time, operate all over the city and are very reasonably priced. We walked to the airport near our hotel, then hopped on a bus to SoBe for only $2 each way.
If you are up for shopping, one of the first places you should go is Lincoln Road. Located between 16th and 17th street (the bus will stop right in the shopping area – you can't miss it), this is SoBe's premiere shopping area. It's an open-air shopping mall with tons of shops, restaurants, sidewalk cafes and bars. The area is closed to traffic and you can find everything from kitschy tourist junk to the latest designer fashions. You can buy a book, get a massage, sample a delicious ice cream cone, or take in a flick – Lincoln Road has you covered.
Read the rest of this article on Travelhoppers HERE.
Pin It