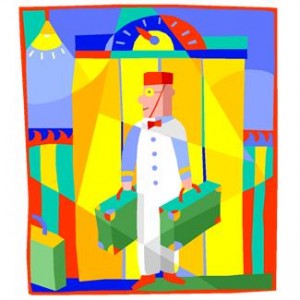 It was the carpet in our room that I first fell in love with at this hip, modern and absolutely cool new hotel in Chicago. It was turquoise. Bright, beautiful turquoise and the perfect complement to the ultra-modern vibe throughout the room and, indeed, throughout the entire hotel.
We were only there for one night but that was enough to make us yearn to come back another time. A time when we have endless hours to spend in the incredible fitness center, indoor/outdoor pool, quite fabulous restaurant and the Executive Business Lounge where we were offered beer, wine or Cokes bottled in unique, silver aluminum bottles like nothing I have ever seen before, as well as very nice Continental breakfast before we left in the morning.
We pulled up to the front of this unique and gorgeous skyscraper, unloaded our car, then turned it over to the valet. Parking is not cheap anywhere in Chicago and the Radisson is no different but the convenience of handing your car over the valet can't be overemphasized in a big city. Self parking is available and will save you a little money but I recommend the valet parking.
Until the hotel opened in Chicago, the Radisson Blu hotels were found only in international destinations like Rome and Sydney. But they couldn't have picked a better location than Chicago and the Lakeshore neighborhood. With a nearby, six acre park filled with plants and flowers, walking and running trails, plenty of restaurants and shops, the location is also an easy walk to scenic Lake Michigan, Millennium Park and the ritzy stores of the Magnificent Mile. It's also not far from Navy Pier and the Museum Campus where you can park and see the Shedd Aquarium, the Field Museum, and the Adler Planetarium.
We stepped into the beautifully decorated and designed lobby and were amazed at how truly gorgeous this place really was. On a tour of the hotel, we learned that the design is not only incredibly beautiful but symbolic as well. Many of the touches in the lobby such as the uneven arches to symbolize the city skyline, are fascinating.
We always enjoy having a fitness center in our hotel as Tom runs several miles a day on a treadmill and I make an attempt to get in some exercise as often as I can. That was honest, wasn't it? The Radisson Blu Aqua does not disappoint with an 8,000 square foot fitness facility filled with all kinds of equipment, a full basketball court, indoor pool, spinning facility, steam room and a full spa. In addition, there is a beautifully landscaped 80,000 square foot outdoor garden, which has a running track, sundeck, fire pits, cabanas, yoga space,a lap pool, wading pool and hot tub.
The hotel has 334 rooms and 19 suites designed by Lundwall Architect owner Christian Lundwall, and even though they are very modern, they are very comfortable as well. We enjoyed the view of skyscapers and a glimpse of the lake from our City View Business Class room.
One of the nicest perks which came along with our Business Class room was access to the hospitality lounge on the two floors of the Business Class room. Furnished with very comfortable chairs and tables and offering snacks, drinks and a Continental breakfast, the lounge also has one of the best views in the hotel. The hotel also offers a full-service business center and plenty of meeting and banquet rooms.
After exploring in the hotel and relaxing in our room enjoying our view, we headed down to one of the most incredible culinary experiences ever at Filini, the modern Italian restaurant in the hotel. But you will have to wait on details about that because our incredible meal deserves a post all of its own.
In the meantime?
Watch this.
Then make your reservations.
Full disclosure: Radisson Blu Aqua provided us with accommodations,  but as always, I will share my honest opinion about any travel experiences I have.
Pin It