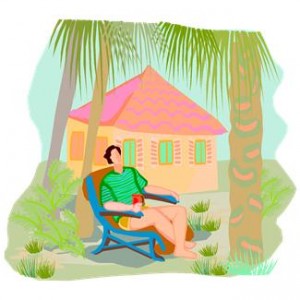 I stretched out my legs and propped my feet up on the railing on the completely fabulous, huge, screened in front porch of our completely fabulous, huge beach house on Tybee Island and just relished the fact that I had nothing to do, nowhere to go, and no responsibilities whatsoever.
And it was a completely glorious day at the beach.
Could life get any better?
We had arrived the day before and just sat in the driveway of our beach house called Quit Yer Crab Inn, where we were staying, thanks to Joy Pohjalainen, the owner of Tybee Joy Vacations, who had kindly offered us a rental property for a few days. We were there to cover the annual Pirate Fest on Tybee and this house was the perfect place to stay on the island.
We sat there in the driveway for several minutes because we were stunned by the gorgeous house at which we were staring with amazement. I had seen pictures online, of course, but neither of us had realized quite how large and lovely this property would really be.
We finally managed to bestir ourselves to unlock the front door and go inside where at least one of us proceeded to run all over the entire house, shrieking in delight as they discovered one wonderful thing after another. A huge kitchen with granite countertops! A fabulous jetted tub in the master bath! A cozy reading nook upstairs!
And I unloaded the luggage as Tom ran all over the house.
Oh, I kid.
I was the one who, of course, was running all over the house. He was not actually unloading the luggage but was indulgently following me around and smiling at my excitement. He loved the house as well but was not as vociferous in his excitement as me.
As you walk into the house, there are very nice hardwood stairs up to the main living area. On the ground floor as you walk in, there is a one car garage and a very nice patio out back with a table and chair and a grill, along with a game room furnished with a ping pong table and foosball table.
Everything about this house is designed for a big family and the game room is a perfect example. I was surprised and pleased to see plenty of beach equipment in the garage – even a wheeled cart to take it all to the beach! Last summer, we brought everything with us to our beach house, including a rather heavy and unwieldy beach cart; how nice it would have been to know everything we would need was already at the beach house!
After checking out the ground floor, we headed up the lovely hardwood stairs to the first floor where we found a living room furnished with two large, comfortable couches as well as a big chair. I have stayed in a lot of beach houses over the years and it was so nice to find great, comfortable furniture in the living room – and two couches! Which meant we could each have our own couch to lie on and watch TV – which I guarantee we did every single night. And they were just as comfy as they looked. Lovely hardwood floors throughout the house really make it feel cool and lovely.
After looking at these pictures of the living room, I realized one of my favorite things in the room must have been added later – the completely fabulous lamp in the corner! When owners take this much pride in choosing kitschy and fun decorations, you know they really care about keeping a rental property nice for the renters.
It is so nice to have a big kitchen when you rent a beach house, especially if you have a large family and will be preparing delicious, sumptuous meals which is how we travel when we have the whole clan with us. Since there was just the two of us, we mostly used the fridge for drinks and the counter to spread out our myriad and sundry supply of snacks, but I still loved having this great kitchen.
If you are using the kitchen to prepare some fresh local shrimp for a big family, they will have plenty of room to eat it because there is a large and very nice dining room with plenty of space for everyone.
The house has two bedrooms and two full bathrooms on the first floor and three more bedrooms and two full baths on the second floor but we actually just used the master bedroom. It was when I stepped into the master bathroom that I knew I was going to be truly, truly happy here. Because it has a huge, jetted tub.
And I am an avid fan of the huge, jetted tub.
When we headed up more beautiful hardwood stairs to check out the upstairs bedrooms, we found another of my favorite places in the house, a cunning little reading nook which could also be used as another sleeping area. What a great place to curl up with a book on a rainy day!
After thoroughly checking out the interior, we threw open the French Doors in the living room and found absolutely the nicest screened in front porch you could ever ask for in a beach house. It was another of my favorite places.
The house includes everything you will need for a family getaway so you won't need to bring anything with you except your beach towels and bathing suits because the beach is only about a five-minute walk away through a very nice neighborhood. We walked over to the Pirate Fest every day and it was an easy, leisurely walk even for kids. It's truly the perfect house for a family with plenty of bedrooms and space to spread out.
I enjoyed leisurely bubble baths in the huge, jetted tub, curling up with a book on a rainy afternoon in the reading nook and relaxing on the screened in porch.
In fact, I am undecided about which of these areas I enjoyed the most.
I guess I will just have to go back to Quit Yer Crab Inn and spent some more time in each area before I can really make up my mind.
Don't you agree?
Full disclosure: Our stay was provided by Tybee Joy Vacations, but as always, I will share my honest opinion about any travel experiences I have.
Pin It