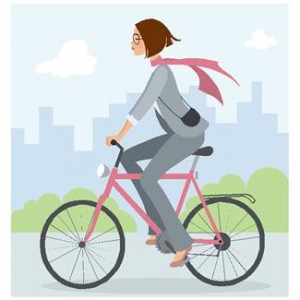 This was not like any cemetery we had every seen. The Oakland Cemetery in Atlanta is truly a gorgeous place with intricately carved headstones and mausoleums and plenty of green grass, full-growth trees and paths winding through the park-like expanse.
But one reason we were enjoying our cemetery tour so much was that we were not seeing it through the windows of a bus or even exerting ourselves in one of the walking tours. Instead, we were tooling along in comfort, viewing downtown Atlanta from the seat of a bike.
And we loved it.
We had been biking twice recently and, when we learned there was a ten-mile, 3-hour bike tour of Atlanta, we decided to go for it. After all, Atlanta is not very hilly, right?
Right?
It turned out there were a few more hills than we planned on but Robyn Elliott, the owner of Bicycle Tours of Atlanta, is used to bike riders of all different abilities and was very patient when I might have had a teeny tiny degree of difficulty scaling some of the very few (luckily) hills in Atlanta. A former construction inspector who watched the residential construction industry grind to a halt in 2008, Robyn knew she needed a new business and as an avid bike rider, she decided bike tours of the city would be the perfect one. She had always enjoyed showing off her home town of Atlanta so combining that with her love of biking was a natural fit.
Be aware that the Bicycle Tours of Atlanta office might be a little difficult to find as it is tucked away in the middle of the Studioplex Lofts in one of the suites. Just look for the Bicycle Tours of Atlanta sign they will have propped up outside and you will find it. All of their tours include a bike, helmet, bottled water and a snack. Robyn personally fitted our bikes to us, based on our height, and carefully demonstrated how to change gears and brake before we ever left the office which, as novice riders, we truly appreciated. The size of your group will vary – we only had one other rider with us on our tour.
One thing that seemed unnecessary was that we had our names taped on our bikes but when we left them to walk around, then came back, it was very easy to get confused about which bike belonged to whom!
The Heart of the City Tour shows you the most interesting sites in this lovely Southern city including beautiful neighborhoods built during Reconstruction and many other hidden jewels off the beaten path. It was incredible to see these amazingly restored, historic neighborhoods with their mansions and cottages. It truly makes you appreciate the attention that has been paid to maintaining the vibrant history of Atlanta.
Our tour also included some of the elements of the Atlanta Street Art Bicycle Tour and we stopped to admire some of the fascinating murals hidden away on parking lot walls and overpasses. Tom had a ball using the new panorama option on his iPhone.
One of the most interesting things for me, as a former librarian, was the tiny library we saw tacked to a tree in Inman Park. Waterproof and covered with a clear plastic door, these little boxes are filled with books which are replenished by anyone who has books to donate. Just take a book when you want one. How great is that!
We biked past small neighborhood stores and restaurants and waved to friendly residents.
We passed the entrance to Underground Atlanta and ended up in downtown – it was pretty interesting to be riding our bikes on the sidewalk with soaring skyscrapers right beside us! Making a loop of the city which included everything from historic homes to those skyscrapers was a great way to see the city – and we got our exercise at the same time. It's really a wonderful, healthy way to see Atlanta and makes me wonder what other cities have bike tours.
I'm game.
As long as there are not too many hills…
Full disclosure: Our bike tour of Atlanta was provided by Bicycle Tours of Atlanta, but as always, I will share my honest opinion about any travel experiences I have.
Pin It