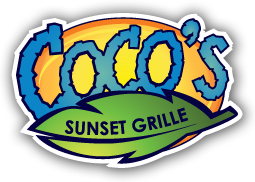 There's a lot of restaurants on this small, 3-mile barrier island off the coast of Georgia. Most of them offer seafood. Some even offer local seafood and I have partaken of many a meal on my trips to this lovely locale situated a few miles from Savannah.
But it wasn't until this trip to check out the Tybee Island Pirate Fest that I discovered the best restaurant on the island.
Seriously.
The best.
Coco's Sunset Grille is tucked away on one side of the island, overlooking the scenic marsh which surrounds the island. As far as I can tell, there are no signs that point the way, just turn at the Welcome to Tybee sign, follow the road until it ends and there you are.
In seafood heaven.
Coco's is named for their little pet monkey – you can get all the details here – but the name is not really important. What's really important is that their shrimp comes right off these boats and goes in the fryer. Or into any shrimp dish they prepare.
We were seated up on the deck overlooking the marsh, which is the perfect place to watch the incredible sunsets.
To start, I ordered the Artichoke and Shrimp dip and began one of the best meals of my life. The dip was not only creamy and delicious, it was served in an edible, crispy and delicious little bowl. Which I also consumed. Because it was also delicious.
Then. THEN. Megan – wait, I have to tell you about Megan. Megan was our waitress and if all the waitresses at Coco's are like her, they are lucky indeed. She was sweet and friendly, tellling us about all the places we should visit on Tybee and all the events for which we should return. She gave me some great ideas for future stories. And she brought us full drinks when ours were almost empty.
I love that.
Then my fried shrimp and scallop dinner was placed in front of me and I truly began to appreciate this restaurant. I have been eating really fresh shrimp – fresh from the shrimp boats – my whole life in Pensacola, Florida so I know good shrimp. And this was superlative. Very lightly breaded, it was obviously fresh out of the water and delicious.
At this point, I was full and actually had enough left over for lunch the next day but I heard Megan mention fried strawberries to the next table. Fried strawberries. Could you have resisted trying them?
Me either.
Fried strawberries at Coco's consist of fresh strawberries dipped in light and sweet pancake batter which is then fried, rolled in cinnamon sugar and drizzled with a strawberry glaze. It tastes like a completely glorious doughnut with a sweet surprise inside.
Sort of.
Only better.
So if you want the best dessert you have ever eaten, go to Coco's Sunset Grille. Or if you want the best shrimp. Or great service. Or a great view.
Oh.
Just go already.
Full disclosure: Our wonderful dinners were provided by Coco's Sunset Grille but as always, I will share my honest opinion about any travel experiences I have.
Pin It