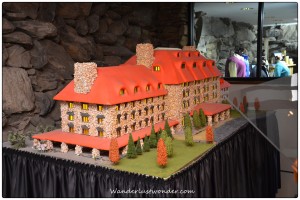 Seeing photos of the Grove Park Inn is absolutely nothing like seeing it in real life as it is truly one of the most fascinating and gorgeous hotels we have ever visited.
We saw it for the first time on a trolley tour of Asheville before we ever checked in and to say our jaws dropped is a vast understatement.
The historic Grove Park Inn (it's actually one of the Historic Hotels of America) opened on Saturday, July 12, 1913 and the Secretary of State, William Jennings Bryan, delivered the keynote address. You would not be surprised by this historical tidbit if you could see the place – it's truly magnificent. Constructed of incredible chunks of stone quarried locally, the Inn is nestled in the beautiful Blue Ridge Mountains right outside the lovely little town of Asheville, North Carolina.
Before we even brought our luggage in, we had to take a few minutes to appreciate the scope of the front lobby which is huge yet somehow cozy. Maybe it's the magnificent fireplace or the dozens of rocking chairs or the beautiful wood floors and lovely carpets. Or maybe it's the fact that the lobby opens onto a dining terrace with an incredible view of the sweeping vista of the mountains and forests of the area.
We finally managed to tear ourselves away from the incredible lobby and make our way to our room. One of the most intriguing things about the Grove Park Inn is that, because it is literally built into the side of a mountain, you actually go down in the elevator to get to your room instead of up – a fact that takes some getting used to! Our room was perfectly lovely with an incredible view of the hotel and spa, which is an experience by itself.
We were in one of the Property View rooms, which are located in the contemporary wings and in the historic Main Inn. These rooms overlook the lovely Spa gardens and the historic courtyard. The Inn offers a wide variety of accommodations, including expansive suites, and the Grove Park Inn Club Floor Accommodations, which are "Exclusive, adult-only accommodations overlooking the Spa garden or Blue Ridge Mountains. Personalized concierge service. Accessed only by special elevator key, these over-sized rooms feature a spacious living area, HD television, Bose Wavetable CD players, fresh flowers, enhanced turndown service and king-size beds with custom-made Kingsdown plush-top mattresses. Spa-like bathrooms feature 7-jet hydro-showers for a waterfall effect and an oversized effervescent bath. Club Floor guests enjoy complimentary access to the Spa facilities (sauna, eucalyptus inhalation room, mineral pools, hot tubs, and fitness room) complimentary continental breakfast, snacks throughout the day, and evening hors d'oeuvre and cocktails." How fabulous!
They also have a cottage where I would love to stay sometime. "Built shortly after the Main Inn, the Cottage sits in a secluded, private garden across the courtyard from the Inn. Originally named the Ann Hathaway Cottage, it was built to the exact specifications of the English cottage where William Shakespeare's wife was born. The Cottage is a spacious retreat for family gatherings, with three bedrooms, two bathrooms, a kitchen, dining room and living room."
In addition, they offer several packages and specials which provide some great savings for your stay.
We were pretty impressed with the sign on the door of the room next door to us.
Apparently, the President is a big fan of the Grove Park Inn and stays there often. That right there makes you want to check in, doesn't it?
We were especially impressed by the fact that we had a Keurig coffemaker in our room – a first for any hotel where we have stayed! We have a Keurig at home and love the fact that you can quickly and easily make one delicious cup of coffee. This is just one example of the hospitality extended to their guests by the Grove Park Inn.
After relishing our incredible view for a while, we decided to just stroll around the hotel and the grounds, which are immense. They have a beautiful and historic 18-hole golf course, and a 50,000 square foot sports facilitywhich offers fitness classes, personal training, racquet ball, tennis, an indoor pool and even some great kid's programs and camps.
The Grove Park Inn is also home to the Nantahala Outdoor Center, which offers an incredible array of outdoor activities in the area. Named "One of the Best Outfitters on Earth" by National Geographic, the Nantahala Outdoor Center at The Grove Park Inn offers whitewater river rafting, kayak and canoe trips, as well mountain biking, hiking, climbing and fishing adventures. You can also enjoy guided hikes, fly fishing and horseback riding in the Great Smoky Mountains National Park or zip line through the forest on an exciting canopy tour.
Although we didn't have time for a spa visit on this trip, the Spa at Grove Park Inn is truly incredible and is one of the top 5 hotel spas in the country, according to Travel+Leisure. You actually descend into what seems like an underground cavern, with soothing music and cascading waterfalls – it's really beautiful. With 43,000 square feet of relaxation space, it's one of the largest spas I have seen and I was impressed with the wide variety of treatments which were available.
   We strolled through a shopping area with a wide variety of interesting little shops.
 We continued to be incredibly impressed by all the detail that had been involved in creating this magnificent edifice.
Now we had seen most of the completely gorgeous Grove Park Inn and there was really only one thing to do.
Sit.
Relax.
Just enjoy being here.
Full disclosure: Our stay was provided by the Grove Park Inn, but as always, I will share my honest opinion about any travel experiences I have.
Pin It