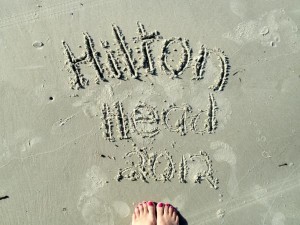 The first thing I was wrong about when I thought I knew it all about Hilton Head is the fact that Hilton Head is an island.
Seriously.
Who knew?
OK, I guess everyone but me.
When people talked about going to Hilton Head on vacation – and many people talk about going to Hilton Head on vacation because they love it there, I just turned up my nose because Hilton Head? Wasn't that huge place really, really crowded with big hotels and a small beach that was not particularly pretty?
Um. Actually. No. No, it's not any of those things.
When we were first approached to visit The Beach House in Hilton Head Island, which is a Holiday Inn Resort, my first reaction was – and I admit this freely – MEH. Hilton Head.
But then I followed the link and, for the first time, realized that Hilton Head is an island. And felt pretty silly for not knowing this. And then I looked at the lovely hotel, right on the beach and thought about the fact that we were going to be in Savannah which is very, very close to Hilton Head Island and I thought well maybe I just should go and see what all the fuss is about.
So we did.
And now I know what the fuss is about because you all.
Hilton Head Island is perfectly lovely.
We left Savannah after the Tall Ships Challenge and made the quick and easy drive to Hilton Head Island. As we drove to the island, I began to feel very much at home because it's similar in many ways to one of my favorite places, Tybee Island. This makes perfect sense because they are both barrier islands on the Atlantic Coast although only Hilton Head Island is considered to be part of the famous Low Country of the Southeast.
The biggest difference I noticed between the two islands is that Hilton Head has a lot of trees. A whole lot of trees. It makes the island shady, cool and perfect for bike riding. Although there are plenty of bike riders on Tybee Island as well, all the shaded bike paths give Hilton Head the edge for comfortable bike riding. One of the first things we did after checking into the hotel was locate the rental bikes they had kindly provided and go bike riding.
I'm going to be honest here and tell you that, at this point, I was a much better bike rider than Tom. He might be able to run four miles on the treadmill where I can walk approximately 17 minutes without starting to whine about how this is so boooooring but I am the champion bike rider. This is because I had been bike riding a couple of times recently and had figured out that it took a little while to regain your balance after not riding for a couple of years a few years OK over thirty years. So I watched smugly as he exclaimed that he could not ride a bike! It was impossible! And then finally began to ride comfortably.
Once we were comfortable on our bikes, we rode all over the island and began to notice these quite interesting signs on every bridge.
Why, yes. Yes, there are alligators in all those lagoons. The ones we saw were very tiny and everyone reassured us that yes, they are all very tiny but I kept thinking yes, but they came from somewhere and where the heck are their parents? I can only assume and kept telling myself that they must take them somewhere, some lovely swamp, and release them when they get big which, after some research, I found to be true.
After our bike riding, we headed back to the lovely Beach House and explored a bit. We had already settled into our room which was large, comfortable and had a very nice refrigerator that would be great for a family.
We have stayed in a lot of hotel rooms and we truly appreciated a couple of very nice touches in this one. They provide you with some clearly labeled pillow choices. Firm? Soft? Take your pick.
Another thing we find incredibly frustrating is trying to find someplace to plug in all our electronic devices without having to pull out bed and tables, unplug other items, etc. Extra outlets in the base of the lamps were a nice, thoughtful addition. If only these were available in every hotel!
There are several room choices at the Beach House and one we saw was very large with bunk beds – perfect for a family vacation.
We had an incredible view of what the hotel rightly claimed was the nicest beach on Hilton Head.
We managed to tear ourselves away from the view so we could check out the rest of the hotel. We started in the modern looking, open lobby where the front desk people could not have been more helpful. One of them actually walked all over the resort with us to find our rental bikes, then spent time helping us unlock them. So nice!
There is a very nice lounge area with a bar where you can relax, have a drink and enjoy the view of the pool and beach area.
The pool area is large and beautiful and was really enjoyed by the families that were staying at the hotel.
We had seen the beach from our room but decided it was time to stroll along it and take some pictures, so that's exactly what we did. The tide was low so there was a huge expanse of beach with lots of tide pools which were great for the kids.
There were also plenty of birds enjoying the low tide and the resulting small fish and crabs that were left behind.
We had enjoyed our beach walk but it was high time for dinner and this is no problem at The Beach House as they have several places to eat. They had very kindly provided us with all our meals, so we tried all the eateries and I am happy to report that they are all excellent.
The first night, we visited Marker 59, a contemporary and sophisticated restaurant with a lovely view of the pool and beach. Our service was wonderful and the food was truly extraordinary. I absolutely had to order something I saw on the menu – Pimento Cheese Fritters. I love pimento cheese and anytime you can make something into a crispy, fried item, I am all about it. They were wonderful.
I couldn't imagine how anything could top that appetizer but I was so wrong. The prime rib was melt-in-your-mouth tender and was such a huge portion that I couldn't even order dessert. Yes, I know. Highly unusual.
It was no problem that I didn't get a sweet fix that night because the next morning we had breakfast at Marker 59 and I got this.
We waddled away from the breakfast table and spent the morning strolling the beach, driving around the island and just being in that lazy vacation mode that is oh, so pleasant. Finally, we had burned up the calories generated by that fabulous French Toast and it was time for lunch. The Shack is by the pool and offers a variety of snack type foods but the chicken strips and fries were hot, fresh and really very good.
We lazily spent some time having a drink at the Tiki Hut and watching others play volleyball which was way past the effort we wanted to expend which was approximately zero on the effort scale.
We really only had one full day in Hilton Head and were pretty lazy about seeing the entire island so I'm sure there are plenty of other great hotels, restaurants, shops and other places to see. We were really very happy with The Beach and all of its offerings and didn't feel inclined to go anywhere else although we did slip into the local movie theatre later in the evening.
We probably need to go back so we can see more of Hilton Head Island and I'm pretty open to that now that I know my preconceived notions were completely incorrect.
In fact.
Hilton Head Island is pretty darn fabulous.
Full disclosure: Our stay was provided by The Beach House, but as always, I will share my honest opinion about any travel experiences I have.
Pin It