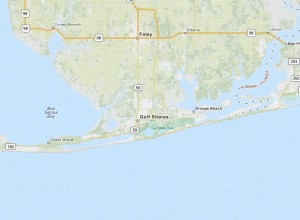 Drive across Alabama.
Now just keep on driving you are totally out of road. You should see the sugar-white sand and crystal green water of the wonderful gulf coast area.
Gulf Shores / Orange Beach (click to see Mapquest)
You have arrived in one of the loveliest, quietest and most family-friendly destinations in Alabama. Gulf Shores and Orange Beach Alabama are so close together they are considered one beach area, and you won't have any idea when you cross from one to the other. They are both equally lovely.
Tucked neatly into a strip of land separated from the mainland by a bay, Gulf Shores and Orange Beach might as well be a barrier island. The choice of the quiet bay or the more lively Gulf of Mexico seems like a difficult one, but in this area it's really pretty easy: choose both! Both bodies of water are within easy access of each other – in fact, if you are staying in a hotel or beach house, you can see the bay out of one side and the Gulf out of the other. Such is the case at the Perdido Beach Resort, a gorgeous resort located on the Gulf of Mexico side of Orange Beach.
Read the rest of this article on Travelhoppers HERE.
Pin It