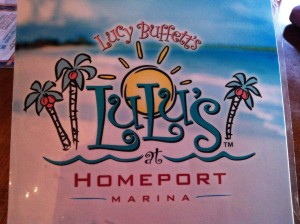 We thought we were going to a little seaside dive restaurant and, honestly, our expectations were low.  We were staying at the Perdido Beach Resort in Gulf Shores, Alabama and one of my completely lovely PR people had arranged a visit to Lulu's. My first mistake was in not checking their website or any reviews because I was just doing a favor for her and how bad could fresh, local seafood be?
Not bad. Not bad. Just about as opposite as you can possibly be.
In fact, completely fabulous.
Our first clue that Lulu's  was a whole lot more than a little seaside dive restaurant was when we pulled up and saw the place. Lulu's is…well…Lulu's is incomparable. Composed of a series of different, beachy-looking wooden buildings, Lulu's is, first of all, huge. It has something to offer every single member of your family, especially the kids, and if you are anywhere near Lulu's on your next vacation – in fact, if you are within approximately a day's drive of Lulu's or a week's drive or whatever – you need to go here.
There are plenty of places for the kids to play, a cute and kitschy store and the restaurant itself which sprawls over a large area and overlooks a lovely lake. They have ceiling fans and live music and tons of people having a great time and the food. Oh my Lord, the food.
Our first impression had been great but when we checked in and they knew who I was and ushered us to a great table by the water, we decided that Lulu's was our new favorite place to eat in the entire world. And this was before we ate. Because after we ate, we decided that Lulu's was our favorite place to eat in the universe.
Our waiter, who was gregarious and very helpful, informed us that we had to order the onion rings as an appetizer because they were the best anywhere. So we agreed to try them. And, let me just inform you, that as a connoisseur of onion rings, these are indeed the best anywhere. Our only problem was that the portion was approximately as large as our head so plan accordingly and don't let yourselves get out of control because you are going to want to save room for dinner.
Everything at Lulu's is fresh, hot and delicious and our fish and shrimp platter was to. die. for. My only regret is that, in looking back over my pictures, apparently I was so overwhelmed with the deliciousness of my meal that I just dove in and started eating with one single thought about taking a picture. So here's a picture of some shrimp from Lulu's that we didn't actually eat but looks scrumptious.
We enjoyed every single minute at Lulu's – the music was great, the view was lovely and the food was…well.
Incomparable.
Now, we scarfed down everything fried we could get our hands on but, next time I go – and there will be a next time – I will try the boiled shrimp because Lucy Buffet says it's great. Oh. Did I forget to mention that Lulu's is owned by Lucy Buffet? Yes, that Lucy Buffet. Here's what she has to say about that.
CRAZY SISTA CRUSTACEAN PERFECTION!
By Lucy "LuLu" Buffett
Along the perfect little piece of Alabama coast I call home, summertime calls for a shrimp boil:  local shrimp, perfectly boiled, pretty and pink, in perfectly seasoned water.
On fancy menus you find boiled shrimp as Shrimp Cocktail, a pretentious hors d'oeuvre typically consisting of six partially peeled shrimp, tails intact for prissy gripping.  Usually overpriced, often overcooked, it is such a sad little dish; I'm amazed that it has long enjoyed the mystique of being "deluxe."
If you've ever tasted shrimp that wasn't cooked properly, then you know what I'm talking about: it falls apart when you try to peel it and tastes mushy, dense, and dry.  Overcooking a delicate crustacean is a colossal culinary sin!
Boiled shrimp appears on my menu as, simply, Peel & Eat Shrimp…messy, yes, but certainly festive…and absolutely, perfectly cooked.  While I'm not a perfectionist in all aspects of my life, when it comes to food, I am picky.  My Gulf Shores, Alabama waterfront restaurant, LuLu's at Homeport Marina, serves over 4000 pounds of Peel & Eat Shrimp every year.  It was important to me to figure out how to consistently boil shrimp… lots of them…perfectly.  Thankfully, "perfect," in this instance, is fairly easy to achieve!
What's the secret?  Well, I'll tell you what generations of Gulf Coast cooks know: never, never, NEVER cook shrimp for more than three minutes! Period!  That's it.  Perfect shrimp, every time.
Crazy Sista's Perfect "Peel & Eat" Shrimp
 2 gallons of water
1 cup LuLu's Perfect Pepper Hot      Sauce™ or any hot sauce
¾ cup freshly squeezed lemon juice
1½ cups liquid Zatarain's® crab and seafood boil
1 (3 oz) bag Zatarain's® dry crab and seafood boil
5 bay leaves
½ cup LuLu's Crazy Creola Seasoning™  or any creole, Cajun or blackening seasoning
¼ cup salt
2-3 pounds of large wild-caught  shrimp – Of course, I use Alabama      Wild!
Combine all ingredients except shrimp in a large stockpot. Bring to a full, rolling boil.  Be prepared to have the spices "tickle" the back of your throat. Gesundheit!
Add shrimp.  Cook for TWO minutes.  That's it.  Not kidding.  Stop reading this right now and go turn off the stove!
Cover, turn off heat and let rest for ONE minute. Got that? (That's a total of three minutes, for      those of you counting!)
Now you have to

stop

 the cooking process, real quick.  Grab a colander and drain off the shrimp.  Spread out the shrimp in a large shallow baking dish and cover with ice. Let sit for five minutes.
Drain again and refrigerate.  Serve with savory, spicy cocktail sauce!
Full disclosure: Our dinner was provided by Lulu's, but as always, I will share my honest opinion about any travel experiences I have.
Pin It