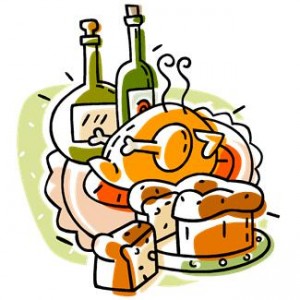 I popped the tiny appetizer of barbecued beef on a tostado chip into my mouth and nearly swooned with delight. The meat was tender, the chip was fresh and crunchy and please can I have another? Or possibly a dozen more?
We were seated at the bar overlooking the busy demonstration kitchen area for Wine Me, Dine Me at the Southwest Bistro, located in the Hyatt Regency Scottsdale Resort and Spa. We had immediately learned that the head chef, Jason Ljunggren, was personable, friendly and really knew how to transform food into works of art that were absolutely scrumptious. And that the waitstaff and everyone who worked in the kitchen really, really loved what they did and were thrilled to share it with us.
When I first heard about Wine Me Dine Me, I wasn't sure what was involved but I knew it involved wine, tequila and fabulous food. And, as you know, when it comes to fabulous food?
I am there.
And, once we experienced the atmosphere, enjoyed the food and relished the interaction with the culinary team, I was so glad I was there. The goal of Wine Me, Dine Me is to experience the unique flavors of the southwest, which comes complete with tequila and wine pairings of the area.
We have never had a dining experience that was so personal and interesting – we felt like we were sitting in the kitchen with some old friends. Of course, these were old friends who really, really knew how to cook. It was a little amusing how excited they were when we praised them for how delicious everything was.
Every course had a different wine and tequila sampling paired with it and, although we are not big fans of wine, we tasted everything and found many of the southwest wines to be just as good as those we had on a wine tasting tour in Europe. I had no idea that tequila could have so many different flavors. The nicest thing about the tasting was that Jason explained what we should be tasting as we sampled each glass. Smoky, tart, sweet – they had it all covered.
After the appetizer, they brought out some corn chowder. Now, I am a fan of corn chowder. I actually have a can of corn chowder in my kitchen cabinet right now – no lie. And I had some great corn chowder in San Francisco, even going back the next night and ordering it again.
But those corn chowders can't even begin to compete with this bowl of deliciousness. It was a black bean and corn chowder with shrimp salsa on top (just the right amount of spiciness) and some sort of little fried bread things on the side that were scrumptious all by themselves.
The main course was a grilled pork chop that was, in all seriousness, the most tender pork chop I have ever tasted in my entire life. We asked Jason how in the world they made it so tender and he explained but I unfortunately didn't make a note about that and I don't think I could duplicate it anyway. We will just have to go back to the Southwest Bistro if we want the most fabulous pork chop in the world.
At this point, of course, we were completely full and had no business even thinking about dessert but do you know me?
Of course we had dessert. And if there is a better dessert than chocolate cake with a peanut brittle crust, I don't know what it might be. Think of a Reese's peanut butter cup only one million times better and you might be able to imagine what this cake tasted like.
The wonderful dessert topped off an evening that was definitely one of the best in our trip to Arizona. The phrase "dining experience" is used often, but this truly was a dining experience. The food, of course, was the best part but we truly enjoyed the intimate experience of being right by the kitchen and interacting with the culinary team. Everyone was so kind, friendly and generous with their advice and suggestions. It could not have been a better experience.
Although I probably should have asked for a piece of that chocolate cake with peanut brittle crust to go because I think it might have been mildly addicting. I'd like a piece right now. Or maybe one of those pork chops.
Or possibly just the entire meal.
Full disclosure: The Hyatt Regency Scottsdale Resort and Spa at Gainey Ranch provided us with this experience, but as always, I will share my honest opinion about any travel experiences I have.
Pin It