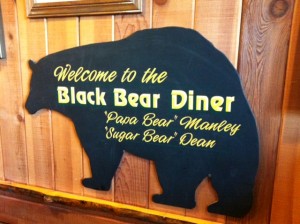 This Southern girl had come home.
I could smell fish and shrimp frying, people were chowing down on big plates of food with cold glasses of iced tea and the place mat offered everything in the restaurant with bacon wrapped around it.
Bacon wrapped meat loaf? Oh, yeah.
The only thing they didn't do was offer me a choice of sweet or unsweet tea but you can't expect that once you leave the South. You just plan on sweetening your own tea as soon as people lose that distinctive southern twang and the salt doesn't have rice in it because of the humidity.
Our waitress, Connie, was not from the South but you would never have known it from her friendliness and down home attitude. Flying around from table to table making conversation, taking orders and welcoming us to the great state of Arizona, she made our visit to the Black Bear Diner in Lake Havasu especially pleasant.
We were tempted by the breakfast choices because breakfast is served all day long even though we were there for dinner because seriously? Chicken fried steak and eggs? Blueberry Sweet Cream Pancakes? Huevos Rancheros Verdes? Yes, please. The place was full of families and I can see why – the food is great, the prices are very reasonable and they have a great kids menu.
But the smell of that lovely seafood frying was too much for us and I ordered the Fish and Chips Platter.  Let me just say that if you are craving a fish and chips platter and you are in Lake Havasu? This is where you want to go.
The fish was freshly fried and so hot, I couldn't pick it up with my fingers. This did not stop me from inhaling it, however. I was as full as a tick and had no business ordering dessert but, as I have said before, I feel an obligation to do a full and extensive restaurant review for you when I eat out.
This is my story and I'm sticking to it.
You know what I really like in a restaurant? I like it when they have a dessert menu. Not just a few piddly little things added to the regular menu or a little chart on the table with a few choices.
I'm talking about a menu. Something like this.
In hindsight and now that I'm looking at the online menu, I realize I should have ordered some pie or cobbler to take with me. Or possibly some pie or cobbler in addition to what I ordered because now I really want some Homemade Bread Pudding with Pecan Praline Sauce.
Like. Right now.
But I decided to just have a little scoop of ice cream and let me tell you that they have not heard of a little scoop of ice cream at the Black Bear Diner. They have only heard of a huge scoop of Bear Claw Ice Cream which is dark chocolate ice cream with chocolate covered cashews and caramel blended in it. And if there is ice cream better than dark chocolate with nuts and caramel in it, I can't imagine it.
Somehow, I managed to eat the entire bowl of ice cream. I might have let Tom have one bite. Or two. But no more. Because that ice cream was good. Good, y'all.
So when you visit Lake Havasu, plan a stop at the Black Bear Diner. Possibly make several stops. My only regret about Lake Havasu is that we didn't get to eat more meals at the Black Bear Diner. They actually have several locations, so maybe you can check out one of the others. Maybe several times.
And order that ice cream.
You're welcome.
Full disclosure: Our meals were provided by The Black Bear Diner but as always, I will share my honest opinion about any travel experiences I have.
Pin It