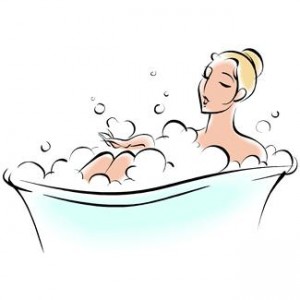 If you wonder why in the world I'm writing about hotel amenities, just read this post and then the review of the amenities at the Inn at Eagle Mountain.
We have stepped back in time to approximately 1960 and we adore it. The decorations, the food, the music – it is all totally fabulous. This is the coolest hotel we have ever seen and there is nothing cooler than our cabana room which overlooks the clear sparkling blue water of the pool. I want to tell you every single detail but first I have to tell you all about the amenities. The wonderful, wonderful amenities.
My only regret is that I didn't put them away the first night so they would be replenished when they cleaned the room and I ended up with only one set.
So sad.
I walked into the gorgeous bathroom with its huge tub with mood lighting and on the counter was arranged some pretty little, light blue containers.
The brand is Red Flower which, strangely enough, we actually had as our our amenities when we stayed at the Nolitan Hotel in New York but I didn't realize they made different fragrances so I'm not sure which one we had there. I do remember that the container of lotion was almost impossible to get out at that hotel – so much so that I even told them about it at the front desk and they said it was a known problem. Apparently, I have an issue with getting products out of the container – and I'm not the only one! This was definitely not an issue at the Hotel Valley Ho because the lovely, lovely amenities were not only the delicious fragrance of Icelandic Moonflower, they were in really nice tubes and it was super easy to get everything out of them.
This was the first place we have been that actually had scented products and, even though I realize most places probably steer away from fragrances because of allergies, etc., I personally love the amenities with a nice fragrance. Since I didn't bring any of my scented bath gel and lotion or even perfume, it was nice to finally smell good. Wait. I mean, I am wearing deodorant and taking showers and it's not like I smell bad but…it's nice to smell…well…nice. You know?
Also, I loved the fact that the Hotel Valley Ho had bath gel in addition to bar soap. Personally, I prefer bath gel because it's just so much more moisturizing. However, they did have a really unique and cool bath soap because it's in the shape of a ball. A ball o' soap. Well, look.
But what I really, really, really loved were the beautiful light blue tubes. Here's how they each measured up.
Shampoo: The shampoo was creamy, smelled great, came out of the tube easily, and lathered up with just a small amount. I loved the way it made my hair smell and, when blown dry, my hair was soft, manageable and shiny.
Conditioner: The conditioner was also creamy, smelled great, and came out of the tube easily. I had to use a lot but that's because I have a lot of hair. This is the first conditioner I have used since I left home that left my hair so tangle-free, I could easily run a comb through it when it was wet. Love.
Bath Gel: I seriously am going to order some of this bath gel from the web site. It was a clear, golden color, came out the tube easily, smelled great and did not dry out my skin. Even more love.
Lotion: The best thing about this lotion is that it was just thick enough but not so thick that I had to spend an hour waiting for it to come out of the tube. It was creamy and smelled wonderful. Yet more love.
So.
The Hotel Valley Ho Amenities Score.
Final Score: 100%
The other hotels have some measuring up to do. We'll see how they work out. The quest for even more perfect amenities goes on. It's a tough job but someone has to do it.
Full disclosure: Our accommodations were provided by the Hotel Valley Ho but as always, I will share my honest opinion about any travel experiences I have.
Pin It