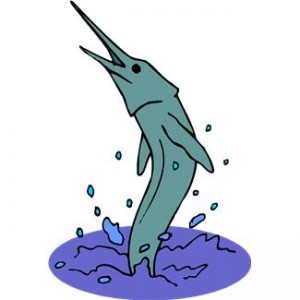 When I was a little girl, my grandmother lived in Pensacola, Florida. To me, Pensacola was the perfect vacation destination and I remember driving over the bridge out to Santa Rosa island with the smell of salt air blowing in through our open windows and getting that first glimpse of sugar-white, soft sand and emerald water. I'm telling you this to evoke a memory but also so you will understand that I know good seafood. I have been eating shrimp bought from fishermen who caught it a few hours earlier my whole life. So I know good seafood.
And when I tell you that the grouper I ate at the Marlin Grill was the best I have ever tasted in my entire life, you will know that it must be the truth.
My SIL, my sister and I spiffed up one night when we were staying at the Sandestin Golf and Beach Resort and headed over to the Village at Baytown Wharf to check out the Marlin Grill for dinner. And we are so glad that we did.
The Marlin Grill was full of people when we walked in and now that I have eaten there, I can see why. If I lived in the area, I would probably spend all my time there, ordering one thing after another on the menu and gobbling them down with relish.
I started with the Blue Crab Cakes which were crispy and delicious. I'm picky about my crab cakes – they have to maintain just the right ratio of crab and filling and these were perfect.
But then. THEN. Our grouper was placed in front of us. And seriously. Best. Grouper. Ever. I don't know what they do to that grouper or how they cook it but it quite literally melts in your mouth. Like BUTTAH. Best grouper you will ever eat. No lie.
One of the nicest things about the Marlin Grill is that their vegetables are all served family-style, so you can try several different things. The asparagus has a grilled flavor that I have never tasted before and was scrumptious. The Tasso ham, macaroni and cheese was wonderful. The Ricotta and Black Pepper Mashed Potatoes did not taste like either Ricotta or Black Pepper and were just average – I suggest you try something else. Two out of three was pretty darn good.
Now, at this point, most normal people would have stopped eating because we were full to bursting but when the waitress described the desserts to us, it was a losing battle. I had to try the Triple Layer Chocolate Torte. I was so glad I did.
Not only was everything we ate completely delicious in every way, the service was exemplary and the place was cozy and very relaxing. They even had a girl with a basket of hot, fresh and delicious little rolls who kept coming around and offering us bread.
We might have had two or three. Or ten. It's really hard to keep track.
The Marlin Grill is a little pricey, so keep that in mind but it's definitely a place you want to go if you are in the Sandestin area because it's absolutely worth the money.
Enjoy yourselves.
And have two or three of those wonderful little hot rolls. Or more.
You know you want them.

Full disclosure: The Marlin Grill provided us with a discounted meal,  but as always, I will share my honest opinion about any travel experiences I have.
Pin It