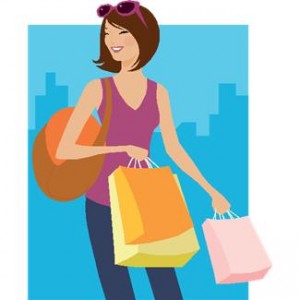 When we were first married, my husband and I were visiting my grandmother (coincidentally, she lived in Pensacola, right near the South Walton beaches area of Florida where I am now) and she kindly took our rather poverty afflicted selves out to dinner one night. We went to a seafood buffet where my husband proceeded to fill and overfill his plate with the delicious local seafood and a variety of other items. My grandmother looked at his plate and asked, rather sardonically, if he was sure he had enough food. He looked at her calmly and said "Eating is serious business".
This is precisely how I feel about shopping. Well, maybe not precisely because it's also a blast. I adore shopping. Clothes shopping, shoe shopping, purse shopping, makeup shopping – I'm even one of those people that actually enjoys grocery shopping.
So you can imagine how I felt when I visited this area last and realized there was a HUGE factory outlet mall here. Honestly, I used to think that factory outlet malls were not that big a deal and you could probably get the same prices at any old mall.
Wrong. There are some really incredible deals to be had at the Silver Sands Factory Stores. And I am here to tell you that we might possibly have, between the three of us, taken advantage of every single one of them. My SIL, my sister and I are all what you might call serious shoppers. My sister might possibly have come home with four pairs of shoes.
Oh, of course she did.
I actually intended to set up a great photo shoot of me with all my bags and packages at the sign in front of the mall, possibly brandishing some new tops, sporting sparkly earrings and dancing around in fabulous strappy sandals. Then I realized that might possibly give my husband a heart attack if he saw me with all those packages and started adding up how much I had spent, so I gave up on that idea and just decided it might be better to introduce my purchases gradually, one at a time and be all "This top? Geez, I have had this top for years" and then quickly change the subject.
Katie Johnson, the Communications Manager at Silver Sands, was kind enough to provide us with a goodie bag of items, coupons and a coupon book for savings at a bunch of the stores but you can get some of the same stuff just by going to their website and creating a unique login. And when you get that coupon book, don't spend your afternoon shopping and accumulating bags of fabulous items and getting just a trifle overexcited about your purchases only to realize that you never actually used the coupon book but left it in your purse all afternoon.
Not that this happened to us, of course. I'm just saying.
If you are heading to Sandestin in the South Walton beaches area next weekend (Jan. 13-16), they are going to have their BIG Winter Sale.  You can get spectacular savings of up to 75% off at many of the stores.  You can also get a $20 Silver Sands gift card when you redeem $200 in same-day receipts to Shopper Services, located near Michael Kors, while supplies last.
You also might want to check out their Facebook page for up-to-the-minute coupons and sales info: http://www.facebook.com/SilverSands
Now, one of the best things about being on vacation in South Walton and staying at the Watercolor Inn & Resort is that, after spending a completely fabulous day shopping to your heart's content, you get to come back to your lovely beach house, get gussied up and go to dinner at The Gathering Place, a lovely little restaurant overlooking the pool area and the firepits, where you can proceed to have melt-in-your-mouth steak and molten chocolate cake even though you had a huge grilled Tilapia sandwich and fries for lunch at A Cheeseburger in Paradise at the mall and said you really didn't want any dinner but you might just have a little bite of something.
Maybe a little side salad.
Please.
Like that is gonna happen.
Well. Look.
Now, if there is a world where a person can't be happy with buying four pairs of shoes and having chocolate cake in the very same day, I don't want to live there.
Also, lest you think that I am shopping and eating and just totally relaxing on the beautiful, snowy white sand, let me show you just how hard I am working for you.
Pin It