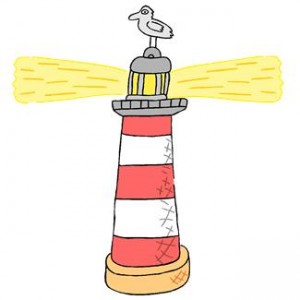 I was so proud.
Looking back from gazing over the peaceful harbor, I could see my husband, Tom, with his hand on the shoulder of an older man with a cane. They were both way out on the granite boulders which lined the shore of Peggy's Cove and the lighthouse that perched right on the edge of the shore.
How kind he was to help this older gentleman, who must have been struggling on the treacherous and slippery rocks! There was even a sign that warned about this very situation.
Then he clambered over the rocks up to where I was standing because he is the death-defying photographer and I am the foodie/shopper/observer from a safe distance and ruefully held out his bloody hand. He was the one who, in his exuberance at getting the perfect shot, had slipped on the rocks and gone down, camera carefully held aloft as he landed on his poor hand. The older gentleman with the cane had helped him up, not the reverse.  Ooops.
Aside from a minor injury, our time in Peggy's Cove was a truly a wonderful experience – and a photographer's paradise. After spending the morning at the Citadel and a short stop at the Titanic Cemetery, we had headed to Peggy's Cove to finish our Ambassatours tour of Halifax.
Peggy's Cove is one of the many fishing villages which were settled in the 1700's on the coast of the Atlantic provinces of Canada. Local legend claims that the town was named for a young shipwreck survivor and she is memorialized in an incredible granite carving in the town. Today, Peggy's Cove has a small population but it's still an active fishing village which welcomes camera-toting tourists.
Although the lighthouse here was the only one we saw on our visit, you can actually take a lighthouse route that will show you all the incredible lighthouses in the area. We strolled past what I think is the only restaurant in Peggy's Cove and headed into the small village, stopping for photos and the obligatory stop in some of the small shops for fudge and other important purchases. We were headed for the Fishermans Monument, which we had glimpsed as we drove into town. It was hard to miss as it is an incredible, 100-foot carving.
If you had a 100-foot chunk of granite in your backyard, what would you do? Ignore it? Mow around it? Yeah, me too. But William Edward deGarthe was a professional trained artist who spent some of his vacations in Peggy's Cove, where had a vacation home with that outcropping in his backyard.
For whatever reason, he decided to carve that granite into a memorial for Canadian fishermen, their wives and children. He was only about half finished when he died in 1983, but it's still an amazing piece of work.
After taking approximately 3,904 photos of the carving because Tom believes that the more photos the better, we headed back to the lighthouse for a few more shots, taking it a little more carefully this time. And, even though I do make fun of him for how many photos he takes, they do come in pretty handy when I'm writing blog posts like this.
And his photos are pretty damn good. Anytime we want to remember our visit to Peggy's Cove, we can look over gorgeous photos like these.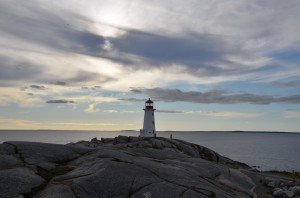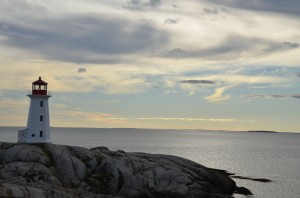 Of course, as an alternate form of memory jogging, anytime we want to remember our visit to Peggy's Cove, we can always check out the scar on his hand.
Full disclosure: Our time in Peggy's Cove was sponsored by Destination Halifax, and Ambassatours, but as always, I will share my honest opinion about any travel experiences I have.