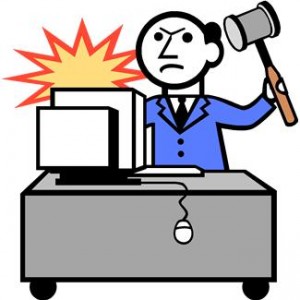 On any given morning, I take my Diet Cherry Dr. Pepper – we all get our caffeine fixes in our own way, thankyouverymuch – in my Tervis cup with lots of ice because we Southerners are all about lots of ice and settle down in front of my computer, all prepared to get a ton of work done.
And when I made that link for the Tervis Cup because I love them so much not because Tervis gave me a free cup, I accidentally typed in Tevis Cup and did you know there actually is a Tevis Cup and it's the Official site of the world's best known and most difficult Equestrian Endurance Ride and this is how I often get distracted.
But I have great intentions.
Great, great intentions.
But you all know what the road to hell is paved with.
I'm going to write an article, no wait make that two articles or I have so many ideas I bet I can whip out three articles this morning. No problem. I am just so frakkin' energized, I'm going to organize all those travel photos and send those emails about press trips and read all my email and finally get those other things done, all those other things, in fact I am going to get everything done.
I am a virtual whirlwind of efficiency. I am a travel writer, by God.
And then I click on Firefox.
And the time suck begins.
I have to check all my email. Seriously, it's really important to check my email immediately. Someone might have contacted me about a trip or replied to an email about a trip or is giving me an idea about a trip or maybe it's even someone who has already booked a trip for me or has already given me a trip and would like to know just when that article I promised is going to appear?Or maybe it's just an email from my husband who wants to know have I done thus and such yet or from friends or family and I can't just ignore them, now can I?
Then, I have to see from my emails who is following me on Twitter and do I want to follow them back or not or is it totally rude not to follow them back and then I have to actually go to Twitter to follow them and I see someone who follows them that I might want to follow too but I have to read their web page first and then, while I am on Twitter I might as well check to see what everyone is saying and geeze get out of Twitter because you know that Twitter NEVER ENDS.
Then, I have to check Facebook and all the comments and photos and videos of flash mobs and Pinterest and and please you cannot justify that this is all about working on travel writing.
But just one more thing and that's to check my Google Reader and this becomes the time suck to end all time sucks because I have to read or at least briefly check on each post and I should comment some and this post is really good and I should Stumble and Tweet it and OMG don't even look at Twitter again because there are 5,931 more Tweets since you last looked and don't you dare go back to Facebook to see who has updated.
Then I actually try to get some work done but while I am organizing photos for an article, I get distracted by other photos and realize I should totally write an article about that and then when I have that idea, I realize I forgot to make a note to contact that hotel about that trip next month and then when I go to see if that hotel is on Twitter so I can follow them, I read some Tweets and almost get sucked back in but no I am strong and I go back to the photos and then I see one that reminds me that I should totally send that photo to my daughter and I go to my email to do that and then I have to read  my new emails and there is one that I should really reply to…
OK. I'm pretty well organized now. Ready to write. All ready!
Wait.
It's lunchtime.
Well, as soon as I finish lunch, I'll start on that article. Or two. Or possibly three.
Just as soon as I check Twitter. And maybe Facebook. And my email of course.