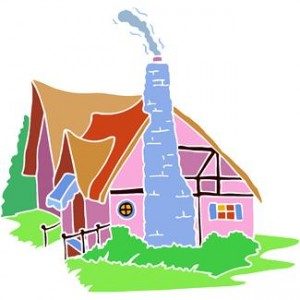 It was after dark when we arrived at Red Bluff Cottage in Montgomery, Alabama, but we could still appreciate how lovely this B & B was as we pulled into the back parking lot. With a late start in the day for our trip to Destin, Florida, we had decided to stop along the way and a B & B seemed a lot more pleasant than a hotel. Red Bluff Cottage had great reviews on Tripadvisor and they were very conveniently located, right off the interstate. As soon as Barry and Bonnie Ponstein, the innkeepers and owners, came out to greet us, help us with our luggage, and show us around the beautiful house, we knew we had made the right decision.
Located in the Cottage Hill District of Montgomery and perched on a vine-covered hill, Red Bluff Cottage is the only B & B in Alabama that was built specifically to be a B & B inn. Built in 1987 to resemble a 19th century raised cottage, the beautifully furnished bedrooms are located on a lower level, while the kitchen, beautiful formal dining room, living room and comfortable family room are on the upper level.
A wonderful, huge front porch furnished with wicker furniture and a fabulous view of Montgomery made us want to stay for a week or so once we saw it in the morning.
We dropped our bags off in the The Great Gatsby Bedroom and were immediately impressed with the design and furnishings. "This large room is highlighted by pictures from early 1900 to 1920, and an ornately carved king size sleigh bed, a huge trunk, and a very old armoire. The recently renovated private bath features an antique cabinet with a stunning petal vessel sink and a marble Jacuzzi tub. For special occasions, a rose petal turndown adds romance and atmosphere to this luxurious room. Ultimate pampering packages are available upon request, i.e., spa gifts loaded with fine vitamin enhanced pampering products, a private massage by a licensed therapist, etc." We spent a long time that evening looking at all the pictures and furnishings just in our room – we could have spent days examining all the bedrooms! Bonnie did all the decorating herself and she has done a wonderful job. Each bedroom has a different theme, along with personal items of interest – like Bonnie's wedding gown!
I had never seen as many nice amenities in a B & B as those offered at Red Bluff Cottage.   Soft, luxurious linens, very nice toiletries and plush towels and robes were available in our room. Each room also has its own desk with free high-speed wireless Internet access and ipod radio alarm clocks. We were also offered bottled water, soft drinks and various snacks, which were available whenever we wanted in the downstairs hall.
Red Bluff Inn offers a number of specials and packages, which include everything from chocolate-covered strawberries to an in-room massage. I am definitely going to have to stop by here with my husband sometime!
After our tour, we were invited to relax in the common family room with Barry and Bonnie which has a large screen television (CATV/VCR/DVD) and offers a nice selection of old and current movies as well as books, magazines and table games. It was so nice to be able to just sit in very comfortable chairs and have a pleasant conversation with them after our long drive!
The next morning, we were very, very reluctant to get up out of our bed which felt like we had been sleeping on a cloud. It was that comfortable. But we knew that a wonderful breakfast was going to be served in the formal dining room, complete with fine china and beautiful table linens.
Barry and Bonnie are famous for their wonderful breakfast items and that morning was no exception. Barry brought us a beautiful, freshly-baked apple tart first and, after we had inhaled those, with a flourish, he set down  a lovely plate covered with a fresh omelet, freshly-baked biscuit and beautifully presented fruit. Everything was absolutely delicious and we ate every single bite.
Since we had arrived after dark, we hadn't fully appreciated the spectacular backyard until we were packing up to leave – and then we again wanted to stay longer! Embellished with a lovely gazebo, the yard is full of greenery and beautiful flowers, all of which are perfectly maintained.
We were a little sad that we were only going to be in Montgomery for the night, since there are so many things to do in this lovely city. We'll just have to go back when we are not in such a hurry – and we will definitely stay at Red Bluff Cottage when we do!
Full disclosure: Red Bluff Cottage provided us with accommodations,  but as always, I will share my honest opinion about any travel experiences I have.