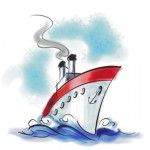 I would like to let you know that, even though we are spending a great deal of time stuffing our faces with one culinary delight after another on the Norwegian Jewel (yum…mashed potatoes), we actually are making time to visit a few ports in between meals and snacks. One of those was the quite lovely town of Halifax, Nova Scotia, which I am going to tell you about in great deal in several posts because we had so many marvelous experiences there.
We went up to Cagney's Restaurant for breakfast which is rapidly becoming another of our favorite places to eat although I have to say that the list is becoming rather long because we are extremely fickle. We have one fabulous item and that place is our favorite! No, wait, this place is even better!
So, after yet another wonderful meal, we headed ashore to the beautiful town of Halifax, where we were met in the cruise terminal by the lovely and charming Andrea Young from Destination Halifax, who not only put us in a cab to the Citadel but accompanied us and introduced us to Krista Lingley from Parks Canada and the genial Hal, who gave us an informative and interesting tour of the Citadel.
Krista was not only a great hostess but she went way over what she needed to do for a travel writer when I mentioned, after seeing the Highlander regalia on the sentry, how much I loved the books by Diana Gabaldon. She excused herself, saying she had to add something to my press packet and when she came back, she had added the most darling little Highland figurine that I will truly treasure. What a generous gesture!
Well, look! Here it is on my book shelf at home.
And here's one of the real sentries at The Citadel.
I'm going to have to devote an entire post to the Citadel because it was a fascinating place but suffice it to say that my husband and Hal got on like a house afire. Once Tom realized that this was a fort with guns and cannons, he was all about hearing every single detail about the place. And Hal was happy to oblige.
After the Citadel, we had hoped to go on a harbor tour but were not able to arrange one, so Andrea gave us tickets to the ferry from Halifax to Dartmouth, just to get an experience on the water. Unfortunately, we were in a rush to make our bus tour to Peggy's Cove, so we just rode over to Dartmouth and then hopped the ferry right back, but there are some very nice shops and restaurants in Dartmouth that you should check out.
We had a pass for a nice bus tour of Peggy's Cove, but when we presented it at the Ambassatours Office, they politely informed us that they did not do tours of Peggy's Cove on Tuesday, but would be happy to take us on another day. Perhaps Friday would work? Since we were going to be on the high seas on Friday, that did not work for us. Once again, the citizens of Halifax showed their kindness and they made phone calls until they arranged for us to join one of the ship tours to Peggy's Cove. How nice is that?
We were so, so glad they made that call because Peggy's Cove was also an incredible experience that I want to tell you about in great detail in another post. A perfectly scenic little fishing village and lighthouse, it's absolutely a place that everyone who visits Halifax should visit. It was at Peggy's Cove that Tom showed his true devotion to photography and even injured himself to prove it. Here is a photo he took right before the…um…fall. He took a misstep on those rocks and went tumbling down, scraping his hand, his elbow and his knee, drawing blood in all those places.
Here's a sign that warns about precisely what happened to him.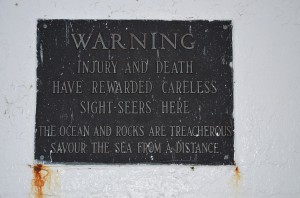 I was, at that very moment, being the attentive and loving wife that I am, buying fudge.
I had no idea he had even hurt himself until he ruefully showed me his bloody hand. I, having a mouthful of chocolate fudge at the time, put it away and immediately called for medical attention.
Oh, I lie.
I ate the rest of the fudge first.
He's fine, I'm fine and I actually let him eat some fudge.
Not the chocolate, though. That was all mine.
And, even though I was scarfing fudge while he was doing his death-defying photography tricks, he still took a picture of me. What a man.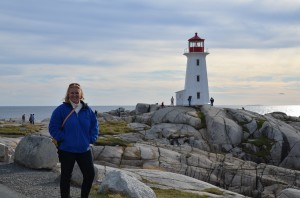 So, if you are in Halifax, you should absolutely do all of the above and even spend more time there than we had, which was only one day because it's truly a lovely place.
Just be careful on those rocks at Peggy's Cove.
And make sure you buy some fudge.
Because it's really, really good.
Full disclosure: Norwegian Cruise Lines provided us with a media rate for our cruise and Destination Halifax provided us with some media help, but, as always, I will share my honest opinion about any travel experiences I have.