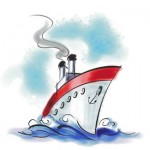 I have now found my favorite place on the Jewel. This, of course, is completely aside from the restaurants onboard, which are all my favorite places because I am seriously having some of the best food on planet Earth.
Possibly the universe.
Last night, we went back to the Tsar's Palace so we could view the sunset and talk about a fabulous view, just look at this.
After relishing the sunset, they brought me some Rosemary Chicken that was to die for but there was one little problem.
They only put a tiny portion of the most delicious, homemade mashed potatoes I have ever tasted. After I inhaled that tiny portion, I asked if I could have more and they bought me a whole entire dinner plate full of mashed potatoes. I would have been a little embarrassed except I was too busy eating mashed potatoes.
Then after the chicken and mashed potatoes debacle, I had this fabulous bread pudding with caramel sauce that was light and just right for someone who has just eaten their weight in mashed potatoes.
Not only are we eating great food in the restaurants, they keep bringing little treats to the the room.
Sort of like this.
And, of course we have to eat them. Of course. We wouldn't want to be rude, after all.
So, the restaurants are favorites but my favorite place on the ship is this crazy turquoise/teal couch we discovered in one of the bars. We were looking for a place to relax and read and found this couch.
Tom was a little hesitant because he said he wasn't sure he could get back out if we got in and this was way before the mashed potatoes which, after scarfing them, this might have been a very real possibility. But I was sure we could manage. We are hardy adventurers and we would make it out of the couch. It's good to have a goal.
Just about the time we got in the couch and got really comfy, they announced that there was going to be a line dancing class. So we laid in our turquoise/teal couch and watched. Basically, there were tons of people dancing around and generally being loud and crazy and this was us.
I also got the soft drink pass which is about $6 a day for as much Diet Pepsi as you can drink which for me is quite a lot of Diet Pepsi. And I got a free mug which made it an even better deal. So, basically, I am sitting around on a turquoise couch drinking Diet Pepsi in between eating fabulous meals. On a cruise ship heading to wonderful ports.
Is this the life or what?
Now if only they would bring me some mashed potatoes while I am lying on the couch, life would be perfect.
Full disclosure: Norwegian Cruise Lines provided us with a media rate for our cruise, but, as always, I will share my honest opinion about any travel experiences I have.