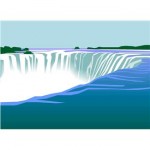 Niagara Falls.
Honeymoons, hokey family vacations, maybe that movie with Marilyn Monroe. That's what most people think of when you mention Niagara Falls. My own memories of Niagara Falls include a visit when I was 16 with a girlfriend and a vague memory of the falls. That's it. And my husband had never even seen the area.
So, when we began making plans to take a cruise with Norwegian Cruise Lines from New York up the coast to Canada and New England, I suggested we stop at Niagara Falls on the way. We made arrangements to stay on the American side at the Red Coach Inn which I will be writing about in great deal but suffice it to say that if you are going to Niagara Falls? You want to stay at the Red Coach Inn because it is fabulous in every way. I'll be writing a post soon about our wonderful stay there.
And also? You did realize that Niagara Falls belongs to the Americans and the Canadians, right? Because I'm going to just admit that I had kind of a hazy idea about this. What this basically means is that you need to decide which side of the falls you want to stay on, although you can easily visit either side by just walking across the Rainbow Bridge. I have to add here that the web site says there is a 50 cent charge to cross the bridge, but only the Americans charged us to get back to our side. No charge from Canada. So, uh. Thanks, Canada!
Both sides of the falls are completely different, so I'm going to tell you all about the American side in this post and reserve our experiences on the Canada side for another post. Neither side is any better than the other, although the Americans seem a little greedy, what with the 50 cent charge to get into the country and all.
Both sides are called Niagara Falls so, when you make plans and hotel reservations, check on which side you have booked. And, of course, you have to have a passport to get over to the Canadian side but it's no problem at all to just walk over there.
One interesting piece of information, which you may know but I only learned on this trip, is that Niagara Falls is actually comprised of three waterfalls. On the American side you have the American Falls and Bridal Veil Falls and on the Canadian side you have Horseshoe Falls. And, even though I am American, I am forced to admit that Horseshoe Falls is actually the most impressive. It's huge, it's awesome and…it's shaped like a horseshoe. Hence the name.
The American side of the falls is a national park, so you will immediately notice how different it is from the Canadian side. It's quiet, pristine and is made up of lovely green meadows, full, lush trees and other greenery. Although there are things to do, along with plenty of hotels and restaurants, it's just a much quieter and laid-back atmosphere than the Canadian side. Unfortunately, we had only allowed half a day on the American side because it looked like there was so much to do on the Canadian side, and we really regretted this because we didn't have time to do as much as we would have liked. You can walk to the park very easily from the Red Coach Inn – in fact, it actually overlooks the park and the white water rapids that lead to the falls.
One of the smartest things we did was get a $2.00 pass for the Niagara Falls Scenic Trolley. The trolleys run every 20 minutes or so and take you to every single site in the park. We did a whole lot of walking before we realized the trolleys could take us wherever we wanted to go. You should know that they do not drop off anywhere in town, though. We watched as the trolley went right past the Red Coach Inn and then we had to walk back from the information center. But it was a very short walk and they had already informed everyone that they do not stop in town (I'm sure people ask them to) so we were fine with it.
The absolute best thing we did was the Maid of the Mist tour. This is the famous tour that you have probably seen in movies, etc. where the boat filled with tourists in raincoats gets right up to the falls. And it's just like that. Let me just tell you that you will need that raincoat that they give you. I sort of assumed it would be like a light mist and the raincoats were just for show, but no. You really get a drenching from that mist. They take you right up to the thundering falls and it's really quite magnificent with the clear, jade green water thundering down. And let me tell you that it does indeed thunder. When we would walk back to our hotel, as soon as we got on the street by the rapids, you could hear the thunder of the falls. If you only do one thing when you visit, you must do the Maid of the Mist tour. They actually have the Maid of the Mist tours from the Canadian side as well and they looked exactly the same, so I think you could just choose which is more convenient for you. I'll be writing a post about our Maid of the Mist experience, so stay tuned.
One problem with going to Niagara Falls in October is that many of the attractions close very early. Summer seems to be the big tourist time in Niagara Falls and things start winding down around this time. Most of them actually close for the winter as winters are pretty severe in that area. So you should really get an early start to your day. We were not able to do this since we flew in and toured on the same day.
The other thing we did that I recommend is walking around Goat Island and Three Sisters Island. These beautiful, uninhabited islands have incredible views of the rapids and the falls and are wonderful places to hike around. Our trolley driver said lots of people take wedding photos on Three Sisters Island and I can see why.
There were a lot of other things we would have loved to do, like the Aquarium, the Niagara Adventure Theatre, and the Cave of the Winds but we just did not have enough time. We easily walked from the Red Coach Inn into town for lunch and dinner and there were plenty of choices. We had great cheeseburgers at Legends Sports Bar and Grill, but there were a lot of local restaurants to choose from and most were within walking distance of the Red Coach Inn. There's also great wine tours and plenty of places to hike, so it's definitely a place that deserves a longer visit.
My husband said we should have allowed more time for the American side and he's right. It seemed a little disloyal to spend more time on the Canadian side.
However.
We did have sort of  a great time over there.
More about that later.
Full disclosure: The Red Coach Inn provided our accommodations and the Niagara Falls Visitor Information Office provided us with attraction passes, but, as always, I will share my honest opinion about any travel experiences I have.