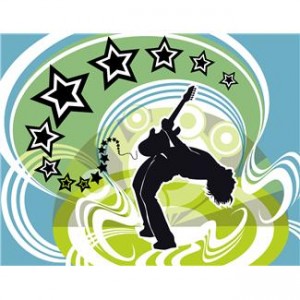 You may have taken a tour before. You may have even taken a tour of Memphis, Tennessee before. But I can guarantee you that you have never taken a tour like the Mojo Tour with Backbeat Tours.
Because it was incredible.
We were in Memphis for a girlfriends getaway this summer and decided we needed a tour of the city before we spent time at Graceland, an evening at Beale Street and then a substantial amount of time stuffing ourselves with Memphis barbecue. A substantial amount of time and a substantial amount of barbecue.
It was when we climbed on the bus and saw the guy with a guitar perched on a stool at the front of the bus that we knew that was going to be a truly unique tour. And it was. Unique, funny, interesting – all this and more, thanks to our great tour guide, Memphis Jones.
If you take a Mojo Tour with Backbeat Tours you should try as hard as you can to get him as your tour guide. He was seriously great. We drove all over Memphis visiting different historic locations and the whole time he had the bus either laughing, listening to his songs or singing along. I have taken a lot of tours in a lot of places and this was one of the best I have ever taken. Before the tour even started, he handed out tambourines and shakers so the crowd could get involved in the music and you would have though we were a bus full of kindergarten students instead of adults the way we got into those instruments.
We learned all about the colorful musical history of Memphis in an easygoing way that  made learning fun. Backbeat Tours offers a variety of musical tours -which seemed appropriate for Memphis – and were very conveniently located on Beale Street, which we had already visited the day before until the incredible, oven-like heat of Memphis had driven us back to our hotel. Luckily, the next day was substantially cooler or we might have never left the hotel again. If you go to Beale Street, there's plenty of places to park within easy walking distance. We even found one that had valet parking for the same price; we just gave him a small tip when he brought us the car.
Here's a schedule of all the tours and the prices. You can buy tickets online or at the Blues City Cafe on Beale Street, where the tour bus will pick you up. The ticket office is right on the street at the Blues City Cafe – you can't miss it.
Backbeat Tours has several interesting tours, including walking tours, all of which are led by professional guides who use music, comedy, and song to create a one-of-a-kind touring experience.  But I really recommend the Mojo Tour.
"The Memphis Mojo Tour is our most popular tour and has been ranked as the best tour in Memphis by Tripadvisor.com. The tour offers 2 hours of high energy fun on this musical journey through Memphis greatest attractions. Visit Beale Street, the Peabody Hotel, the Overton Park Shell, the Lorraine Motel , Civil War sights and movie locations while listening to toe-tappin' renditions of the hits of Elvis, Jerry Lee Lewis, Johnny Cash, B.B. King, Robert Johnson, and Otis Redding, just to name a few. For the complete Memphis experience, try our Big Mojo Tour, which offers everything in our Memphis Mojo Tour, plus a one-hour guided tour of Sun Studio."
And after your fabulous tour, get off the bus at Beale Street and walk right into the Blues City Cafe.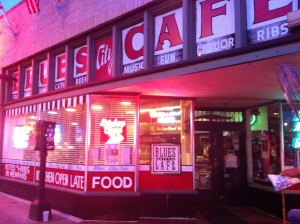 They have a fabulous menu of choices, including a very spicy and delicious  Gulf Coast Cajun-style shrimp appetizer that might very well take the top of your head of with it's spiciness. So be prepared.  Just make sure you order barbecue at the Blues City Cafe because it is their specialty. I have never had barbecued ribs with meat so tender it was actually slipping off the bones until I ate here.
And then, just about the time we thought we might be able to get up and waddle out of the place, they encouraged us to order the Apple Dumpling with ice cream, which is their specialty dessert.
Honestly. Could you pass this up? Baked apple wrapped in pastry seared with butter in an iron skillet. Drizzled with cinnamon sauce and served with vanilla ice cream.
Me either.
So. Go to Memphis. Take the Backbeat Tours Mojo Tour. Eat barbecue and apple pastries until you can barely walk.
Good times.
Full disclosure: Backbeat Tours provided me with a tour and Blues City Cafe provided me with a meal, but my companions paid their own way and were pleased to do so for such great experiences. As always, I will share my honest opinion about any travel experiences I have.