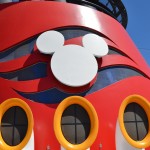 After fabulous, fabulous Vegas, we headed out on a Disney cruise of the Pacific Northwest. We were mostly thrilled to be returning to San Francisco, one of our favorite places, but we also love that coast and were very interested to visit Vancouver for the first time. This same cruise from LA to Vancouver is also offered by Disney in the spring of 2012.
When we originally planned to add a few days in Vegas on to our itinerary, I fretted about how we were going to get from Vegas to LA, where we would board the Disney Wonder. Who knew it was so indescribably cheap to fly from Vegas to LA? Our tickets were roughly $30 each – probably the cheapest airline tickets I had ever bought.
I was also undecided about whether to fly into LAX or Long Beach and, let me just tell you, if you are ever trying to make this decision you should choose the Long Beach airport. It was so super easy to fly into this small airport, stroll over to pick up our luggage, then casually walk out front and grab a cab. Compared to the huge, overwhelming, city-like LAX, it was heaven.
We arrived at the World Cruise Center at the port of San Pedro, all jazzed up for our first Disney cruise and, because of our concierge status, were cheerfully waved forward into a very short line. The rest of the passengers were in a line that wended its way through the terminal and consisted of hundreds of passengers. We felt pretty darn smug and superior until we stood and stood and stood and then, just for variety, we stood some more.
The lines inched forward, even though there were dozens of Disney employees doing their best to get everyone checked in and on the ship. We had been standing for about an hour when they finally apologized and said they were having technical difficulties. Nice that they let us know but they should have been making that announcement every few minutes. An apology would have gone a long way towards quelling the mutters of discontent I was hearing all around me.
On the plus side, once we finally made it onboard, the shrimp on the lunch buffet was quite fabulous. And when one of the employees saw us trying to juggle trays and our carry-on luggage, she stepped forward and helped us with our trays. Then, when I asked about fresh fruit, she started to tell me where to find it, then smiled and said "I'll just being you a nice fruit plate, shall I?" and proceeded to bring me a lovely plate of fruit that she had carefully arranged.
One comment about our carry-on luggage – that was all we had with us to take on the ship, as our other luggage would be delivered later. On my last cruise with Carnival, they stood aside and allowed everyone to bring whatever luggage they wanted onto the ship. This meant that there were large piles of huge, unwieldy suitcases piled willy-nilly everywhere that people were trying to walk in the dining area. When I saw a Disney employee calmly but firmly tell a passenger they had to check their luggage, I was overjoyed.
Good one, Disney. Good food, no huge piles of luggage and great service quickly outweighed the long wait.
It wasn't until we had filled our plates with lunch that I saw the soft drink dispenser. Diet Coke on tap. As much as you want. Whenever you want. I couldn't believe it and felt like I had really fallen down on the job as a travel writer for not knowing this. My friends, this is HUGE. Not only is Diet Coke ON TAP, we also had Diet Coke and other sodas free in our suite. I think this is just a suite amenity but I certainly appreciated it.
Once we stepped into our completely fabulous in EVERY way one-bedroom concierge stateroom, we forgot about any issues we may have had in boarding the ship. I felt a teeny-tiny twinge of guilt as I realized this suite could easily hold a family of five and the two of us were taking it over. But when I saw the jacuzzi tub and realized that my husband and I would each have our own bathroom? I forgot about any feeling of guilt and just felt inexpressible glee. You can see a detailed description of the suite HERE and here's a layout as well.
Step into the suite and there is a bathroom on the left with a shower. This is where you can delegate your significant other so he can deal with his own wet towels and trimmed beard hairs in the sink. Oh, I kid. There were no beard hairs. Not because he cleans them up but because he doesn't shave on vacation until forced to do so.
The living room is huge with a couch, chairs and a nice dining room table for the room service meals you are going to order after you have traipsed all over San Francisco and can't muster any energy to do anything but take a bubble bath in your jacuzzi and put on your pajama pants.
Man. Does that sound like a great evening or what? Especially the not having to cook your own dinner part.
Against the nicely paneled wall is a flat-screen TV, plenty of cabinets for storage and a wet bar with a small fridge underneath. With Diet Coke. How fabulous is that?
One of the nicest things about the suite was that there was beautiful artwork everywhere, including little statues and other items on the shelves. When I was telling someone about this, they asked if the things were glued down so they wouldn't fall over in a storm. I can't believe I didn't think to check this. So, if you are on this ship and in this suite, would you do me a favor and just check and see if those things are glued down? Because now I'm really curious. Thanks.
We have had wider verandahs on other ships – verandahs that were wide enough for a nice table and chairs – but this one is very nice as well. There were actually two entrances to the verandah; one in the living room and one in the bedroom.
A sliding door leads into the very nice bedroom with a comfy chair and ottoman and doors out onto the verandah.There's a great little room with a vanity where I spent a great deal of time primping, a huge walk-in closet with only my clothes because? Because I put all of his clothes in the other closet in the hall.
At one point during the week, my husband was watching TV while I was trying to read and I looked up, exasperated, and said "Why don't you go watch that in the bedroom?" And we looked at each other and laughed out loud at the fact that we actually had a separate bedroom in our suite. A completely separate bedroom where he could go, close the door and watch TV. And I couldn't even hear him.
How cool is that?
It's almost like having an apartment. Only at sea. Heading to fabulous locations.
Seriously, could life GET any better?
I guess it could. Because then there was MY bathroom with the jacuzzi tub. WONDERFUL.
I wasn't sure how life could get ANY BETTER until we went to dinner and had a delicious meal which was completed by a dessert sampler platter and I could kick myself that I forgot to take a picture of it before I scarfed down the tiny cheesecake, the minuscule lemon pie and the delightfully bitty S'Mores cake that was so good, I almost wished I had an entire cake. I often fall down on the job as food photographer and, after I have inhaled the completely lovely repast, realize that I should have taken a picture of it. But then I had the same thing every night with various desserts so I managed to get a picture for you.
We were super happy. Loved our suite, loved our dinner, loved Disney. Happy, happy, joy, joy.
Until we tried to sleep that night.
And we would have gladly traded our completely fabulous suite for a lower deck inside stateroom.
More on that later.