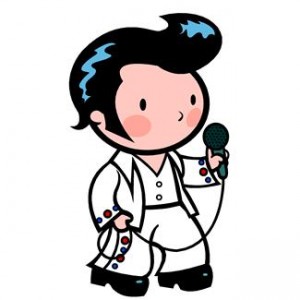 We both leaned forward instinctively, horrified to think the performers in bright super hero costumes were falling to the stage, certain to be hurt, maybe even killed. Then they bounced into the air and landed agilely right back where they has started, only to do it again and again, landing back on the platform and even, incredibly, hanging onto the walls for a few seconds.
We were at the Viva Elvis by Cirque du Soleil show at Aria in Las Vegas and we were trying not to sit with our mouths hanging open as the Cirque du Soleil performers went through the most incredible acrobatics we had ever seen. The superhero sequence that had us so enthralled was an ode to Elvis' love of comic books and the rest of the show presented a series of vignettes that portrayed his life. We have never seen another Cirque du Soleil show, but this one was simply incredible. The sets were amazing, the dancing was excellent, the singing was fantastic and the costumes were quite fabulous.
The segue between sets consisted of pictures and videos flashed on a screen and an actor narrating as Colonel Tom Parker.  Video clips from his movies were shown and featured all the beautiful women who were his c0-stars. Not only was the show wonderful, it was very educational about Elvis' life and legacy.  The show displays Elvis' life from the time he is a kid through his singing career to the time he is drafted in the army, when he gets out of the army, his marriage to Priscilla, and his movie career. The show combines Elvis's music along with dancing, amazing acrobatics and impossible looking feats performed by very talented entertainers. There are touching moments like when Elvis is drafted into the army and and when he marries Priscilla as "I Can't Help But Falling In Love With You" is played.
One of my favorite sets was the jailhouse they used for "Jailhouse Rock". Singing, dancing, acrobatics – it had it all and the audience was really singing along for that one.
Actually,  everyone in the audience, young and old, loved the music and the production and I saw people singing along and dancing in their seats.  You'll hear popular Elvis tunes like "Love Me Tender," "Jailhouse Rock," "I Can't Help Falling In Love With You," "Viva Las Vegas," "Suspicious Minds," and "Don't Be Cruel", just to name a few.
At one point, they lowered a huge, metalwork guitar suspended on cables and two performers hung from it doing acrobatics and wending their way through the spokes and wires to the tune of "One Night". It was truly amazing.
I liked the fact that they did not try to have an Elvis impersonator – I think it would have made the show a little cheesy. Instead, at one point, they had most of the cast members dressed in colorful jumpsuits and Elvis wigs for a rendition of  "Viva Las Vegas" that was simply campy and fun.
The theatre itself was beautifully decorated and the seats we had near the front were very cushioned and comfortable. The show runs one hour and 30 minutes and you can purchase a drink or snack at the snack bar next to the gift shop. Of course, there is plenty of  Elvis memorabilia in the gift shop and you can find the perfect souvenir to take home. You can get your tickets here if you are headed to Vegas anytime soon – and I absolutely recommend that you do so!
Full disclosure: Cirque du Soleil provided us with tickets,  but as always, I will share my honest opinion about any travel experiences I have.