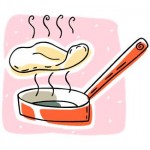 I seriously hope you are impressed by the fact that the title of this post is in French, even though I might possibly have had to use Babylon to get the translation.
OK. I did.
However, I still do retain a modicum of the French I took in high school and college; enough that someone at the airport in France actually thought I was French until he lost me with a long and convoluted explanation about trains or possibly sheep and maybe I should brush up on my French before we go to France next time.
Anyway, that says…wait for it…the food is delicious at La Creperie. And it totally was.
One of the best meals we had in Vegas was not actually in a restaurant, was very reasonably priced, and was so good that I am thinking about at this very moment and my mouth is watering. La Creperie is a tiny little place, tucked away on the right side of the tunnel-like promenade that leads from the Paris Hotel to Bally's Hotel next door. It's actually just a window that opens back into a wee little kitchen where they whip up the best crepes you have ever tasted. There's a big area right next door with plenty of tables and chair and you can also slip in and use the tables and chairs on the patio at the restaurant next door in the morning when they are closed.
We had eaten crepes at a sidewalk cafe in Paris, France so we were very interested to try these and see just how they compared. They compared favorably. The only thing they lacked was the spectacular view we had of the Eiffel Tower as we nom-nom-nommed our way through some orange crepes in France. We decided to go for breakfast, although this is not the only option as they serve a variety of crepes, both sweet and savory. So, we immediately had a quandary. Sweet or savory? Since I am the person who has a Leaning Tower of Pisa of breakfast pastries on my plate any time I visit a breakfast buffet, it was easy for me to choose sweet. My husband chose savory which worked our very well since we could taste each other's choices.
Now, which sweet would I choose. Hmmmm. You can see my difficulty.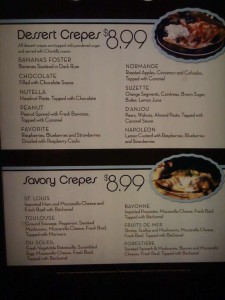 My husband had no difficulty. He's a big fan of a ham and cheese omelet, so the "St. Louis" with ham and mozzarella cheese fit the bill perfectly.
I took my time. One selection was off the menu immediately – bananas! Gah! Yuck. Well, look. This is how I feel about bananas.

Chocolate! Strawberries! Oranges! Pears! Hmmm…pears. And walnuts and caramel sauce. We had a winner. And a winner it was. My only regret is that I couldn't eat two of them. And that we had no time to go back and try the chocolate one. Or possibly the strawberry.
You absolutely must go here the next time you are in Vegas.
So, sadly I mull upon the fact that I only got to have crepes once. Now that I think about it, we grabbed a quick breakfast at the airport on our way out of town…what was wrong with us? We totally could have had crepes to go. Let me add that to my Vegas list for next time.
Done.
Full disclosure: The Paris Hotel provided us with accommodations (although not our meals at La Creperie) but, as always, I will share my honest opinion about any travel experiences I have.