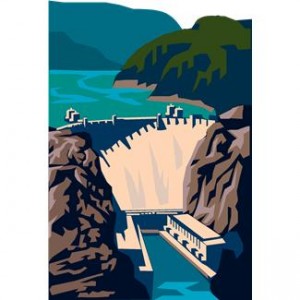 We looked up at the huge dam towering above us, quite magnificent against the bright blue sky, and simply marveled at it. We had just seen one of the most incredible natural feats of nature, the Grand Canyon, by helicopter, from a raft,and from the Skywalk and, even though this dam paled in comparison to the huge canyon carved out by the Colorado River over hundreds of years, it was still dam impressive.
Sorry. Had to do it.
When I began planning our stop in Las Vegas, on the way to LA and our Disney cruise up the Pacific coast in May, one of the very first things my husband Tom indicated interest in was a tour of Hoover Dam. My reaction? Meh.
But, because I love him and because he has waited patiently and uncomplaining at many a fine resort as I get a lovely and relaxing massage, I agreed.
And I am so, so glad I did.
It was honestly incredible.
You can head to Hoover Dam on your own but, for a whole lot of reasons, we are big fans of the tour wherever we go and whenever possible, so we decided to visit Hoover Dam with Pink Jeep Tours. We could not have made a better choice. In business for over 50 years and offering a large variety of tour packages, they were efficient, organized and made the trip a relaxing pleasure. Here's the tour we took. Even though they offer a basic tour of Hoover Dam, we liked the idea of adding the raft trip at the bottom of the dam to get a different perspective, just as we had in the Grand Canyon and I really recommend this particular tour.
Here's an overview of our tour, just to give you an idea: Hoover Dam Top to Bottom. And here's a video as well.
Pink Jeep Tours met us in our hotel lobby, which is what they do for all their tours, and we hit the road in oh yes we did a pink jeep. To be technical, it was actually one of their new Trekkers, which you can read about here and was very, very comfortable. There might just possibly have been some dozing on the way to Hoover Dam.
Because we were right on time, we ended up with some extra time in our schedule and, instead of just hanging around, our driver took us to Boulder City and showed us around. We had flown over Boulder City in our helicopter but it was really interesting to see this small town and hear all about the history of the workers who built the dam. Our driver could not have been a better tour guide. Friendly, easy-going and very knowledgeable, he filled us in on all kinds of information and stories about the history of the Dam and the new Bypass.
Then it was off to Hoover Dam. When we arrived, we were transferred to a different vehicle to make the rather difficult drive down the rocky road to the Colorado River and Black Canyon for the rafting part of our tour. Only a few vehicles are allowed down to this rafting area and it was very quiet and serene. In fact, it was so quiet and serene that we actually saw mountain goats calmly wandering around and grazing as we headed down the road.
We drove along slowly and cautiously, then stopped at a lookout area so were able to get some shots as the Hoover Dam and the Hoover Dam Bypass, constructed to alleviate traffic congestion on the Dam, came into view. If you are interested, you can see a video about the Hoover Dam Bypass HERE.
We headed down to the dock to begin the first part of our tour, the rafting trip. Here's a few shots from the dock area.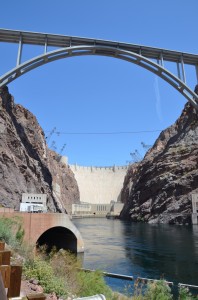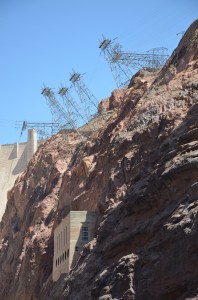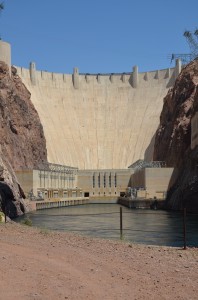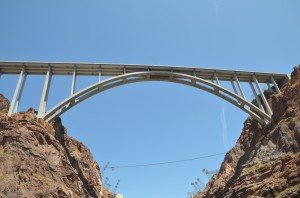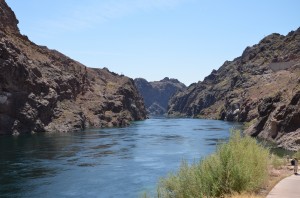 Then we proceeded to clamber onto our raft to cruise along the Colorado River below the dam, along with several other passengers. One suggestion – take some insect repellent if you go in May as we did because the flies were pretty annoying.
At the bottom of the canyon, it was very still and quiet, the only sounds the murmurs of conversation from the other passengers. The water was an amazing shade of green from minerals and we saw fish and plenty of birds.
These cormorants were supremely unimpressed by the magnificence of Hoover Dam.
Then we turned and cruised quietly up the river for a little ways. We didn't need the engine as the current carried us along.
Surrounded by the high walls of the canyon, we saw plenty of man made and abandoned structures.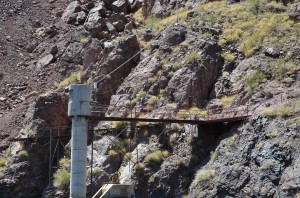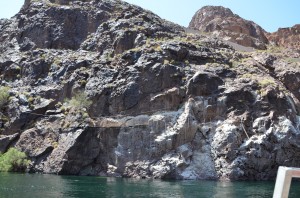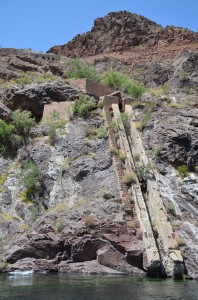 Water, sun, wind – they all conspire together under the guise of Mother Nature to gradually break down and destroy those things that man creates. However. They have not had much impact on the hulking behemoth that holds back tons of water and harnesses it to power our world.
More about that in my next post.
Full disclosure: Pink Jeep Tours provided us with a hosted tour,  but as always, I will share my honest opinion about any travel experiences I have.