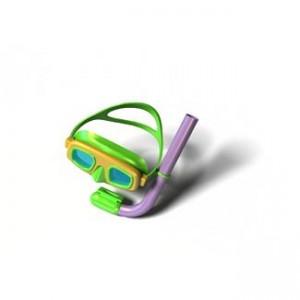 I float silently on the bright turquoise water, arms and legs spread like a gawky starfish. Quiet envelops me and the cool water swishes against my legs as I gently paddle my flippers through the water, propelling me through this gorgeous yet alien landscape.
The clean, white, sandy bottom, scattered with rocks and coral, looks close enough to touch although it's actually 30 feet below. A school of dark, topaz blue fish congregates there, darting and weaving through the rocks scattered on the bottom. I see movement from the corner of my eye and turn my head lazily, lazily…there's no hurry here…to see a bright green sea turtle calmly swimming along above the shipwreck. He is oblivious to our presence, we snorkelers, we intruders, we air breathers.
I had forgotten how much I love this. The slide into the water, adjusting the mask, the snorkel, dipping my head in the water and SUDDENLY another world is in view. A world that you can't see or even dream of, swimming on the surface. A world that is cool and peaceful and calm and quite, quite lovely. The warm sun on my back, the cool water surrounding me, the weightlessness, the timelessness.
Our snorkel guide surfaces with a spiny starfish in his hand and we marvel at the creature; skinny, spiny legs curling and uncurling as he moves from one wet hand to another. He dives down to put him back in his home under a rock and we watch him swim down and down, bubbles spewed up by his descent tickling my hands as I waft them back and forth in the bubble stream.
Time slows down to a crawl as I hover here. I don't even have to move if I choose not to. I can float and hover and drift, carried by the slight current, correcting with a flip of a fin if I move too far away from the sights below.
This is the only place I want to be right now. Here in this cool water in this lovely place. Weightless. Effortless. Content.
Later we'll clamber aboard the catamaran and skip over the water as droplets fly up into our laughing faces.
But not now.
Now I'll just float awhile longer.
Snorkeling excursions are available at most of the Caribbean ports to which Carnival cruises. I recommend you try this experience if you never have. Full disclosure: Carnival provided me with some lovely gifts and some free Internet time, but did not pay for my cruise. As always, I will share my honest opinion about any travel experiences I have.