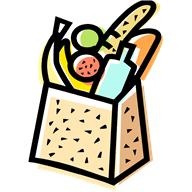 For some, cruising is all about the destinations. Exotic, glorious, beautiful destinations. For others, it's about the ship. Relaxing, gambling, shopping, playing Bingo, going to shows. But for all us foodophiles? It's all about the food.
I'm a little embarrassed to tell you that, even though I wrote all about how to lose weight on a cruise recently, I fall into the latter category.
Although. Shopping comes in at a close second.
I am here to tell you that the food on the Carnival Liberty has met and exceeded all my expectations.
When my husband and I cruise, we always scout out the ship on the first day, locate everything and mentally map it so we never get lost the rest of our cruising time.
OK. That's a lie.
My husband does that. I? I follow him around the rest of the time.
So this cruise has been a bit of a challenge because, not only am I geographically challenged, so is my girlfriend, so we have been like a lost ball in the high weeds all week. We spent approximately 20 minutes looking for the dining room last night when we finally realized we were at the wrong end of the ship. True story.
But once we finally found the dining room, it was well worth it. Our meals onboard have all been superlative. Not only our dinners in the dining room, but our breakfasts and lunches as well. The fresh omelet bar makes wonderful, delicious omelets and the breakfast buffet has every breakfast item you can possibly imagine and few others besides. For lunch, you can choose from the dining room, the buffet, a freshly-made hot or cold sandwich bar, a burrito bar, the Mongolian grill (where they make great stir-fry from fresh ingredients you choose) or fish and chips, which may very well be my favorite. Oh! And pizza. And fresh soft-serve ice cream. And, of course, as many desserts as you can possibly fit on your plate.
Which is quite a lot. Especially if you get an extra plate.
Not that I would EVER do that.
The only problem (she says shame-faced) is just which food item are we going to choose for each of our meals. And snacks. And midnight buffets.
Actually, I'm just kidding there because after a day of fun, sun and shopping, I fall into bed each night. But my roommate did punish them on the pizza consumption late last night after the Mardi-Gras party.
Now, so you can live vicariously (and begin planning your next Carnival cruise), let me just share with you what we had for dinner last night.
Herb polenta with a mushroom pastry. This was my dinner, so I can safely say YUM.
Fresh salmon.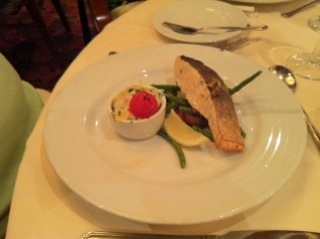 Freshly grilled steak.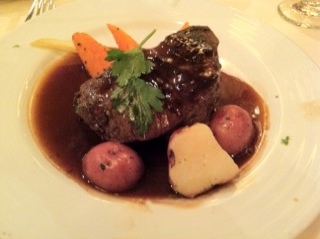 Pork loin.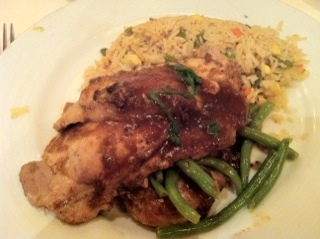 Strawberry cheesecake.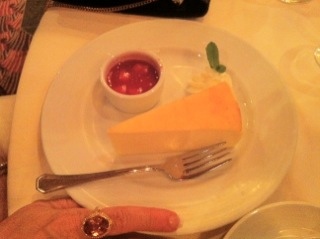 I have to tell you a little story about this last item. Some things on the dinner menu are offered every night, just in case the current offerings do not tickle your taste buds and you want to go back to fried chicken or ice cream or, in this case, the MELTING CHOCOLATE CAKE. Melting chocolate cake is on the menu every night and, let me just tell you that melting chocolate cake is completely fabulous. It was a huge decision every night. Do we have one of the new desserts on the menu tonight or do we have MELTING CHOCOLATE CAKE?
It was quite the quandary. The reason I only have pictures of two desserts is because, out of the six of us, five ordered MELTING CHOCOLATE CAKE. Not only that, we realized we could order whatever ice cream we wanted on the side so we had vanilla, chocolate and butter pecan. Um. One of each, just to clarify. Although you can totally have all three, if you want.
This is what is so great about cruising on the Carnival Liberty.
This and seeing all the ports of course.
But mostly the MELTING CHOCOLATE CAKE.
Because.
It is completely and totally fabulous.
Melting Chocolate Cake.
Full disclosure: Carnival provided me with some lovely gifts and some free Internet time, but did not pay for my cruise. As always, I will share my honest opinion about any travel experiences I have.