Just a few of the companies we have worked with.

A travel writer and travel photographer who travel the world together, we photograph and write articles about destinations, tours, boutique and luxury accommodations, spas, cruising, and gourmet restaurants for this travel blog and a variety of other venues, both print and online, which reach hundreds of thousands of readers. We have placed over 200 articles in a variety of venues. I have also recently published a guidebook for Savannah and Tybee Island, Georgia. Over the years, we have found that the most effective form of marketing for travel is through reading interesting, honest, firsthand accounts from trusted travelers. We're always open to getting hosted stay invites at a variety of accommodations because that enables us to write a lot of details about the property based on our first-person experiences which might include the in-house restaurants, spas, or other experiences.
By working with us, your brand will be featured in a variety of articles and publicized extensively for thousands of active travelers on a number of social media sites. We welcome discussions about the best marketing goals to promote and publicize your brand, whatever it might be.
Our blog appeals to a variety of readers – 50+ travelers looking for a vacation or a weekend getaway, couples looking for a romantic or luxury getaway, and women travelers of all ages. Our readers are well educated, with a high percentage completing graduate school; 54% of our readers are male and 35% of them are between 25 – 34, with the highest percentage coming from the United States and Canada. We have nearly 4,000 page views a month from over 100 countries and the number is growing daily. Our Google Page Rank is 3/10, we have 338 followers on Google+, 500+ connections on LinkedIn and we have 1,394 Twitter followers.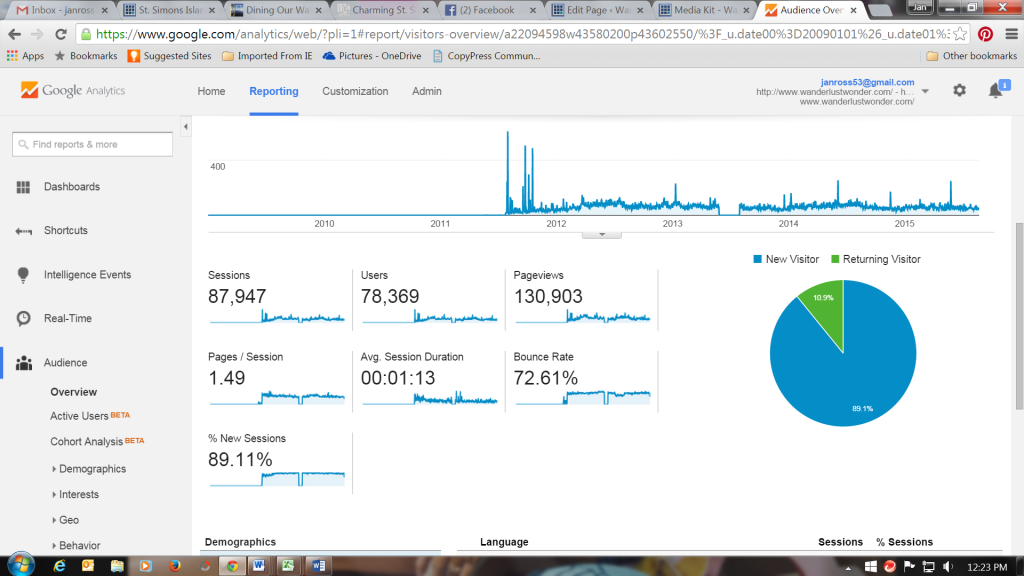 Press and Social Media Trips
 If you are interested in organizing a Press Trip, looking for online PR with a social media slant, or working together on our print travel magazine columns or articles in online venues, we would love to talk to you. We are open to hosted travel and will write about our experiences in a variety of venues. I am also open to Girlfriend Getaway travel on my own. We will be honest, fair and professional in everything we print. The posts on Wanderlustwonder will be labeled as sponsored posts.
What have you done?
We have worked with a variety of clients, including hotels, resorts and restaurants, PR companies and CVB's. Some examples are Lou Hammond & Associates; Geiger PR; Hayworth PR; the St. Louis, Missouri CVB; the Carlsbad, California CVB; the Door County, Wisconsin CVB; the Sonesta Resort in Hilton Head, South Carolina; Cielo in the Four Seasons in St. Louis, Missouri; and Chicago Architecture Tours in Chicago, Illinois. We would be happy to provide you with detailed information and references from any of our clients.
What we can do for you:
Full coverage of the trip on our travel blog which would include different aspects of the trip, such as food, accommodations, tours, etc. Our blog is experiential, so we visit and experience everything we cover.
Live-blogging our experiences during the trip, if Internet access permits. These posts are designed to create current interest and are in addition to the more detailed posts we will write on our return.
Articles on other online venues for which we write and photograph, including, but not limited to Girlsgetaway, Travelhoppers, Epicurean Travel, Luxe Beat Magazine, and Minitime.
Detailed reviews of accommodations.
Reviews of restaurants visited on Urbanspoon and all foodie reviews (restaurants, food tours, etc.) organized on the blog.
Twitter: Before and during our trips, we regularly tweet @janross53 about the interesting things we see and do to build interest and excitement about the trip. I also use Twitter to promote blog posts and build readership.
Pinterest: We have several Pinterest boards and pin everything we write.
Google+ and LinkedIn: All articles are referenced on both of these sites.
Content for tourism boards, companies, etc. We are happy to share our articles and photos and have them appear on your website, blog, newsletter, etc. with attribution. We are also willing to work with you on photographing specifically for brochures, web sites, etc. You can see some samples of Tom's photography for Un-Cruise Adventures HERE and we would be glad to provide you with more sample photography.
Magazines: We write and photograph a travel column for two magazines, "Living Well 50 Plus" and "Ky Doc". Combined, readers number over 60,000 and these are individuals who are very interested in travel. We have also worked with other print magazines, including "Harbors", "Pique Newsmagazine" and "Senior Living" magazine in Vancouver. In addition, we may be able to place articles in other print magazines about our experiences.
Reviews
Reviews of products, activities, accommodations or activities will be considered on a case-by-case basis and the post will be labeled as a sponsored post.
Guest Posts
We do not accept guest posts on Wanderlustwonder as we prefer the blog to be experiential and only about our own adventures.
Advertising
However, we will accept relevant, family-friendly  travel advertising in different forms, including text links and graphic ads (at the top of a post) in the posts we write. Wanderlustwonder appeals to 50+ travelers looking for a vacation or a weekend getaway, couples looking for a romantic or luxury getaway and women travelers of all ages. We have had over 22,000 readers this year alone from over 100 countries and the number is growing daily. We can do a text ad in the sidebar for $100 per month or $500 for six months. We can do a 150X200 pixel graphic ad on the sidebar for $150 per month or $800 for six months. We can do a banner ad on the sidebar for $200 per month or $1000 for six months. All ads will be paid for in advance and set up as "no follow" links. All ads should be relevant to travel.
Blog Post Sponsorship
We accept sponsorship of posts that are written by us. Sponsorship includes a brief paragraph (1-4 sentences) at the bottom of the post citing you as the sponsor, with text provided by you about your business. These ads are $100 per month or $500 for six months. We also accept trip sponsorship which might include rental cars or providing us with travel expenses. This sponsorship will be mentioned in the blog posts we write about trips or there may be an ad specifically about a sponsorship, such as this article about the loan of a Toyota Venza.
If you are interested in any of these topics, contact us at janross53ATgmailDOTcom.