We were just about ready to give up. We had driven back and forth on this back country road and never seen anything that looked like a glass blowing studio. Maybe we had the wrong directions? Maybe …well, who knew? Finally, I decided to call to get more specific directions and he directed us right to a driveway and told us to turn in. And there it was! Our contact person, Lisa Pelo, was waiting for us and ready to show us around. She wasn't impatient with the fact that we were late;  rather, she was thrilled to be able to share her love of creating things from glass with us.  Lisa was generous in sharing her history with us and how she got into working with glass as part of her love of art.
"Glass is its own inspiration. There is no other medium like it. The challenge of controlling it better and making more elaborate and complex forms: this is a lifelong project. Color in glass is fascinating. When the light can come in and out of the form through the color to create its own visual interest regardless of the form, that is a skill that has to be honed and sometimes never understood by other glass workers. What there is about glass-you have to master the medium…glass in motion and be able to tell it what to do. You have to know colors/not just the color wheel but what glass colors are chemically and what they do hot and cold and what colors do to enhance the form and then be able to put them where you want them. Then, make the form, an artistically complete form by knowing those basic rules and then create the final vision. The skill set is always in forward development when creating in glass."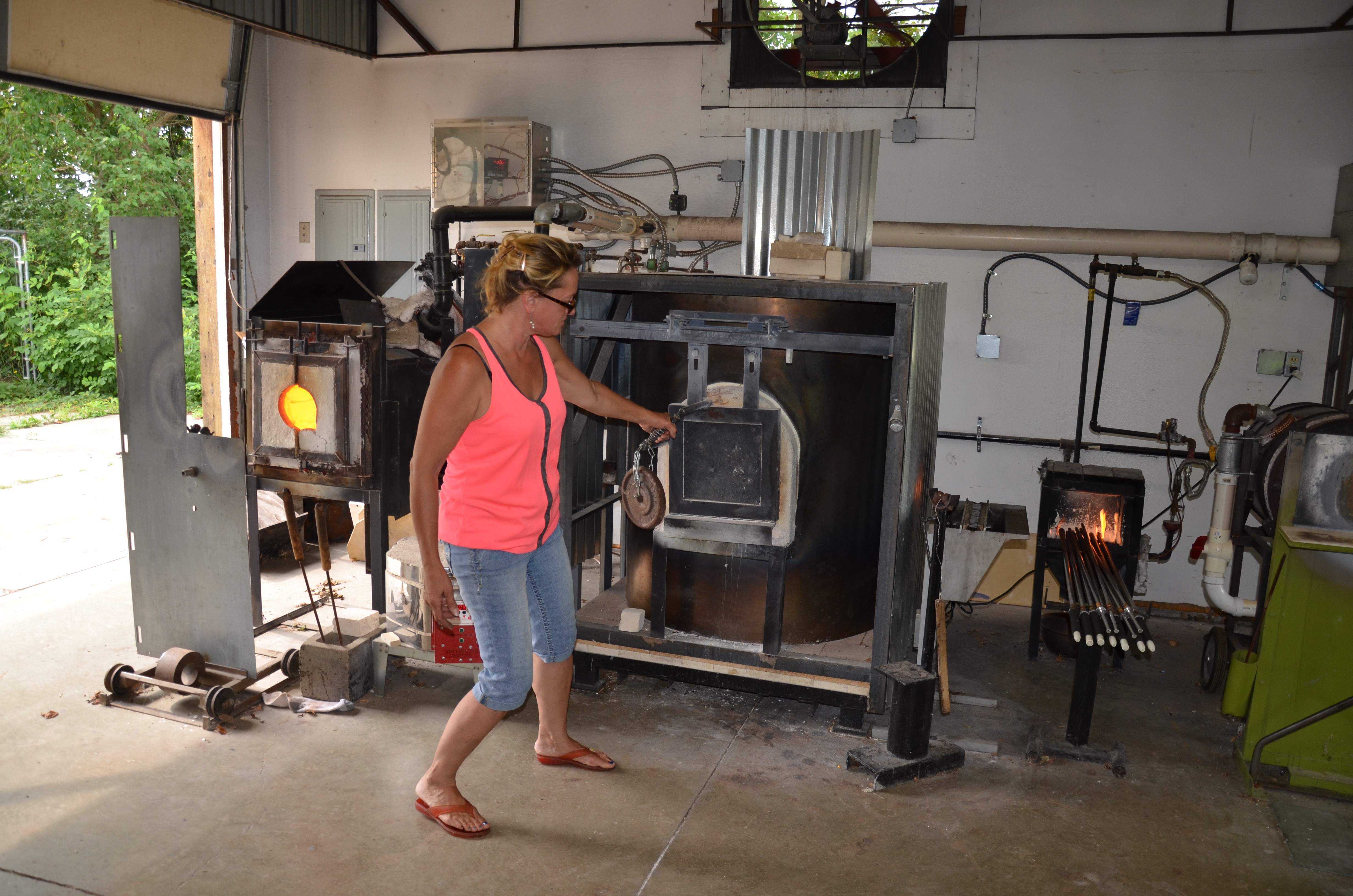 Lisa offered to show us how to create something in glass in her glass ovens and she walked us through the process, picking up the beads of glass first.
Lisa got her equipment together, calm and ready to place the beads of glass in the oven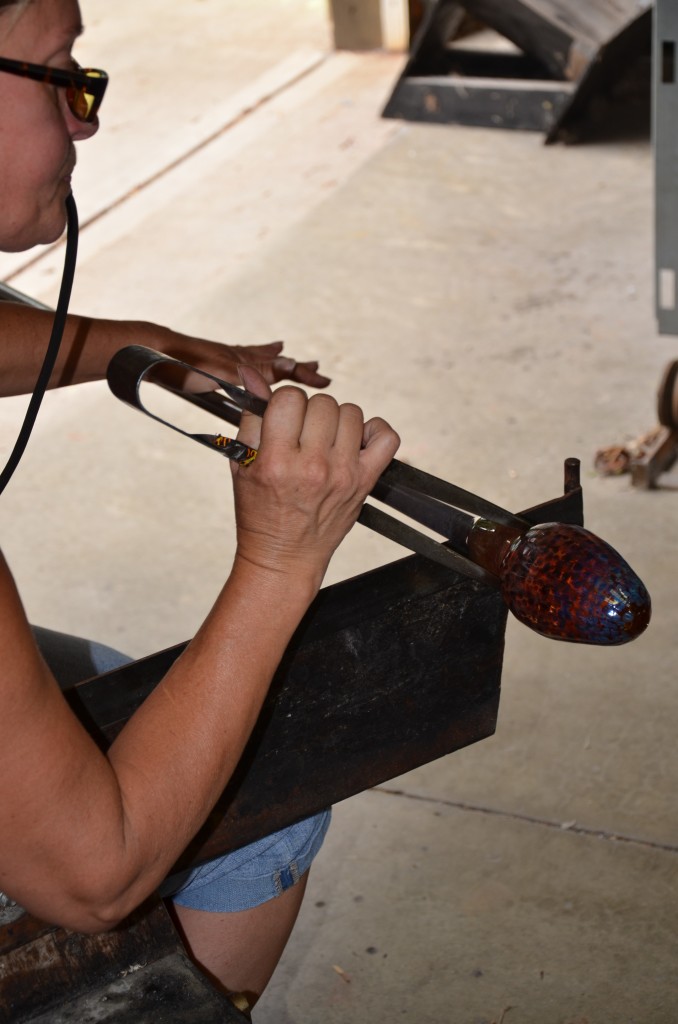 Working with the hot glass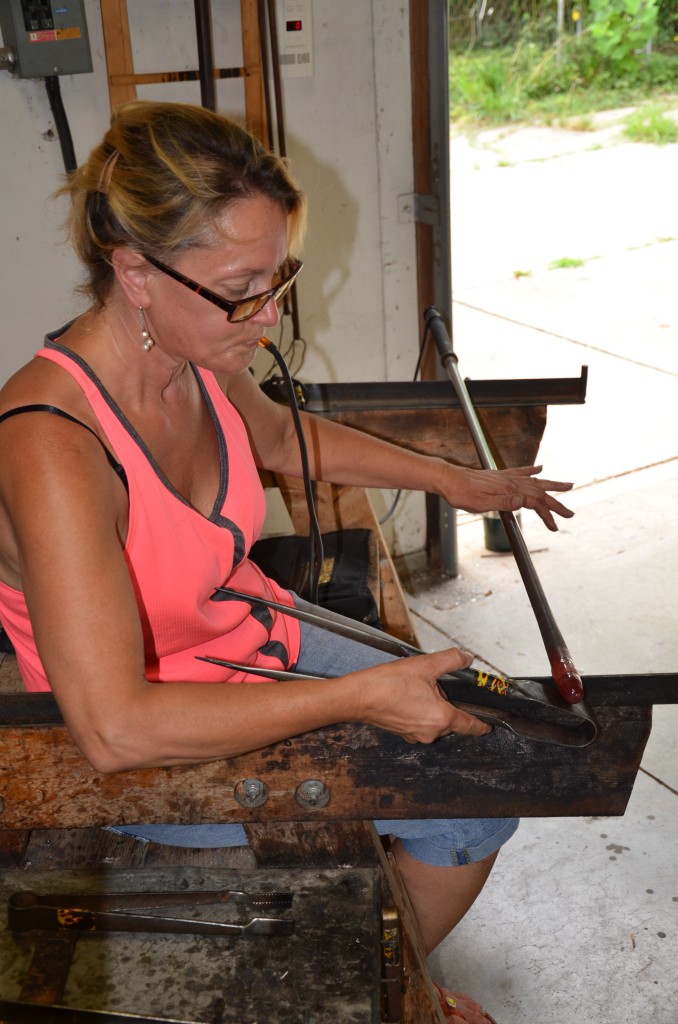 Shaping the glass
Lisa casually and easily created something from the hot, molten glass. It was amazing to watch! After she finished with the piece of glass art, she took us on a tour of her studio. She makes all kinds of different works of art and works with students in classes and individually. The displays of beautiful, colorful glass were amazing.
Lovely pieces of glass art were arranged and displayed throughout her studios. The hours it took to make one piece were amazing! Lisa is an amazing artist and a generous and giving teacher to those who are interested in creating glass art.