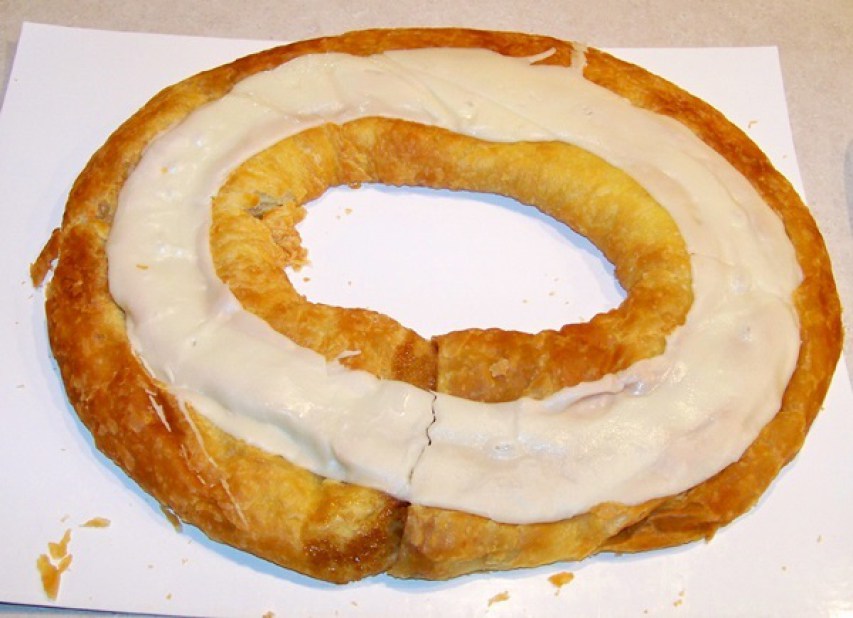 A Kringle!
A Kringle is a Scandinavian pastry, a sort of Nordic pretzel, which can be filled with a variety of sweet options. From strawberry cheesecake to apple to pecan, this pastry is available in just about every flavor. Hand rolled from Danish pastry dough which has rested overnight, the sheets of flaky dough are layered, then shaped into an oval, filled with fruit or nuts, and then baked and iced. A typical Kringle is a large, flat oval measuring approximately 14 inches by 10 inches and weighs about 1.5 pounds.
Wisconsin has historically been a center of Danish-American culture, so it makes sense that the Kringle was designated the Official State Pastry in 2013. Racine, a charming small town located on the shore of beautiful Lake Michigan has long been a location to seek out this delicious treat. The pastry was first introduced to Racine in the late 1800s by immigrant Danish bakers, and as the town was home to more Danes than anywhere else in the country, there are more Kringle bakeries in Racine than you will find anywhere else. Unofficially designated the Kringle Capitol of the World, Racine today has five bakeries offering different varieties of Kringle, so you can sample until you find the perfect combination.
My family recently paid a visit to Racine to enjoy the lovely beaches, parks, and trails; Frank Lloyd Wright architecture; an amazing art museum and zoo; and the historic Wind Point Lighthouse. The lake provided area residents and tourists with plenty of opportunities for fishing, canoeing, kayaking, and other watersports, and area restaurants provide any international delicacy you can imagine.
Read the rest of this article HERE.