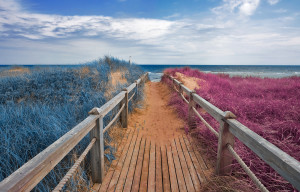 Sharing books with children is a great way to step into other worlds, have amazing adventures, hear about other cultures, and learn to empathize with characters. It's also a very special way to spend time together as a family and a great bonding experience for family members of all ages.
An extension of these wonderful experiences is to actually visit as a family the destinations where some of your favorite books take place. Here are a few classic children's books with accompanying locations to get you started.
Anne of Green Gables, by Lucy Maud Montgomery – Prince Edward Island: Those who love this book will find Anne-related attractions all over this lovely and remote island, including Avonlea Village, Green Gables Heritage Place, and the author's family home where her descendants still live.Kindred Spirits Country Inn and Cottages is the perfect family-friendly location to stay when visiting, offering cottages complete with kitchenettes, a heated swimming pool, and bike rentals.
Read the rest of this article on Minitime.com HERE.
Pin It