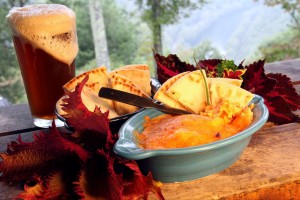 There is a long list of reasons why you should visit the amazing Adventures on the Gorge.
Located in the startlingly beautiful New River Gorge in the Appalachian Mountains of southern West Virginia, which is part of the New River Gorge National Park, it's not only in a uniquely beautiful location but also offers an astonishing array of adventure activities, including whitewater rafting, which is the iconic reason the resort began in the first place.
The New River Gorge National River is still somewhat of an undiscovered paradise and was designated part of the United States National Park Service in 1978. It spreads out for 53 miles along the New River, and includes some of the most prime white water rafting territory in the United States. The river flows north through deep, scenic canyons, is one of the oldest rivers on the continent, and the park itself offers over 70,000 acres of land available for world-class rock climbing, hiking, zip lining, a bridge walk above the river, and plenty of other water sports in addition to white water rafting. Adventures on the Gorge is the perfect place to experience this area and all it has to offer.
This is not your average vacation or even your average resort; rather, it's a completely unique adventure resort – and we loved every minute of our recent visit, including a visit to charming, nearby Fayetteville, West Virginia with interesting little shops and restaurants. Everything from the amazing array of accommodations, to the hospitality of all the employees, to the activities from relaxing by the beautiful Canyon Falls Swimming Pool to rafting your way down the New River, white-knuckled and soaked, make this a great destination.
But one of our very favorite things on a recent visit turned out, quite surprisingly, to be the food.
The resort has three restaurants each of which offers great, friendly service, fabulous views, and really, really good food. Most of the meals in the restaurants are buffet-style or casual dining like pizzas which makes sense when you consider that most everyone at the resort is participating in incredibly active activities and is starving! However, they also can provide some pretty darn fancy meals as well, which is nice since they also do weddings. One nice thing about all the restaurants is that they are super casual so you certainly don't have to worry about dressing up for a meal.
Read the rest of this article on Epicurean Traveler HERE.
Pin It