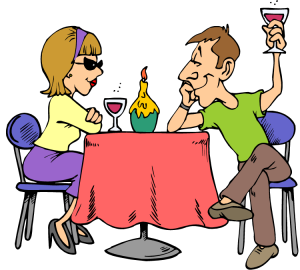 I have written about our amazing stay on the beautiful Viking Delling Longship before but I didn't go into detail about all our fabulous dining experiences as I decided they quite rightly deserved their own post.
Viking River Cruises does a lot of things exactly right and the food on our cruise of southern France was one of those things. In fact, it was a highlight of our trip. We are big fans of a culinary experience and often plan our trips around where we are going to eat next so having a great foodie experience on the ship was perfect for us.
Since we spent the day sightseeing before we actually boarded the ship for the first time, our first meal on the ship was dinner. Although you are not expected to dress formally for dinner, the dining room is always beautifully set up with white tablecloths and lovely dinnerware. If you are feeling even more casual, you can always dine on the Aquavit Terrace with a nice view and fresh air, which we did one night and for several lunches.
In the main dining room, you are handed a menu to make your choices which is so lovely! They always had several options and if you wanted to try more than one, it was no problem at all.
Everything we ate for dinner was delicious and, if we were not completely satisfied, we could easily ask for something else. This only happened to me once when I decided to try frog legs for the first time. Not a fan. Not at all. However, Tom loved them and ate both his and mine.
However, we did try Escargot for the first time and loved it. We were both feeling a little trepidation but if you can't try Escargot in France for the first time, when can you try it? Luckily, we were both huge fans. It's much like a buttery, garlicky mushroom and even came in its own fancy little dish – yum!
Every evening, we began with appetizers and every evening it was such a difficult choice!
Then we had soups and salads, always freshly made and scrumptious.
Aside from the frog legs, I loved everything else we had for a main dish every night.
A highlight of every meal was the perfectly prepared desserts.
Breakfast and lunch were equally wonderful with several choices every day.
We never went hungry on the ship; they even had a nice coffee station which they kept stocked with muffins and cookies in case someone got the munchies between meals.
Every meal was a delight but our best day was when we had a "Taste of Provence" lunch that was just wonderful and I'm sure required a lot of work on the part of our wonderful crew. They had different stations set up all over the ship with everything from local wines and cheeses to main dishes and lovely desserts.
As you can see from these mouth-watering photos, the culinary experience on the ship was one of our favorites in all our travels. In fact, I would like a taste of those macaroons right now. Guess I will just have to book another Viking River Cruise!
Full disclosure: Our cruise was provided by Viking River Cruises , but as always, I will share my honest opinion about any travel experiences I have.
Pin It