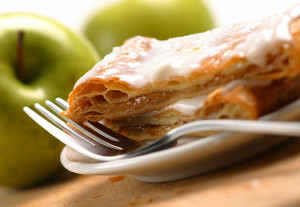 There is a lot to enjoy in the charming small town of Racine, Wisconsin. Located on the shore of beautiful Lake Michigan between Milwaukee and Chicago, Racine has lovely beaches, parks and trails; Frank Lloyd Wright architecture; an amazing art museum; zoo; and the Wind Point Lighthouse. The lake provides plenty of opportunities for fishing, canoeing, kayaking, and other watersports, and area restaurants provide any international delicacy you can imagine.
But speaking of delicacies, there was one we knew we had to sample when we were in Racine. The Kringle. A Scandinavian pastry, the Kringle is a Nordic form of a pretzel which can be filled with a variety of sweet options. Kringles are hand-rolled from Danish pastry dough which has rested overnight. The sheets of flaky dough are layered, then shaped into an oval, filled with fruit, nuts, or other flavors, and then baked and iced.
Read the rest of this article on Epicurean Traveler HERE.
Pin It