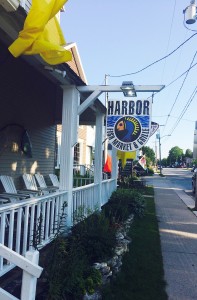 Tucked away in tiny Bailey's Harbor on the charming and beautiful Door County peninsula is a hidden and undiscovered treasure which you would do well to locate on your next trip.
Harbor Fish Market and Grille is a wonderful, gourmet restaurant in a historic building on the main street through town. Featuring a lovely view of the bay complete with outside dining, the large building in which the restaurant is located was added to a smaller building in 1908. The small building was originally used as an ice cream parlor and later a tavern, and the larger building was used as a tavern and dance hall.
Whole families would come to the dances, and the children were put to bed upstairs while the adults continued dancing. In the ice cream parlor, cones were only 5 cents, and later on in the 40's and 50's, movies were shown, and there was roller skating on the hardwood floors on Sundays. The building went through a few owners until 1997 when it was bought by restaurateurs Carl and Karen Berndt, and we were thrilled to pay them a visit on a recent visit to Door County.
Read the rest of this article on Epicurean Traveler HERE.
Pin It