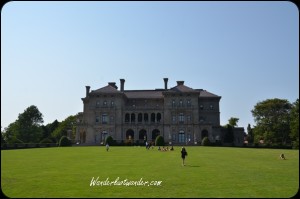 When my husband and I recently spent a summer weekend in the charming town of Newport, Rhode Island, our first view of this lovely and historic locale came through a dense, wet fog. As we drove over the bridge onto the island where Newport is located, we could catch glimpses of the harbor, the cobblestone streets, the little shops and the sprawling mansions.
Technically, Newport is located on Aquidneck Island and is one of the most famous New England resort areas. In fact, it's been a favorite resort area for a long time, beginning during the "Gilded Age" in the mid-nineteenth century, when wealthy families wanting to escape the summer heat began to build summer "cottages" on Bellevue Avenue near the coastline. The misnomer of "cottages" for these absurdly huge mansions was ridiculous. The wealthy families tried to outdo each other in building the most opulent homes you can possibly imagine, and many of these are now open for tours, which we planned for the next day of our visit.
Read the rest of this article on Luxe Beat Magazine HERE.
Check out this article about 4 Way to Relive American History in Newport Rhode Island HERE.
Pin It